Delicious & Convenient Recipes
Dinnertime is Mina Time™. Looking for Inspiration?
Find the perfect recipe for any occasion
Chicken Manakish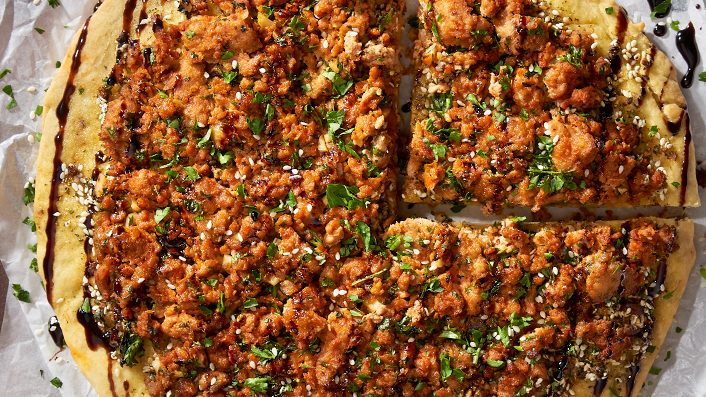 Prep Time:

20 min

Total Time:

1 hr 40 min

Servings:

4 to 6
DIRECTIONS
Chicken Mix:

In a heavy bottomed skillet on medium heat add the oil and onion and cook, stirring frequently, until soft, approx. 3 minutes. Add the garlic and continue to cook for another 30 seconds until fragrant.

Stir in the chicken, chili flakes, paprika, all spice and cook until the chicken is cooked through. Add the tomato, tomato paste and salt and cook until the sauce has reduced and thickened slightly.

Stir in parsley and cilantro and adjust the seasoning with salt and pepper to taste. Set aside while you prepare the dough.

Manakish Dough:

In a small bowl combine the water, sugar and yeast and let sit for 10 minutes until the yeast had been activated and starts to bubble.

In a large bowl whisk together the salt and flour. Add the oil and water to the flour and mix until it comes together. If the dough is too dry add a few more drops of water. Kneed the dough a few times then form it into a ball.

Lightly grease a large bowl with oil and place the dough in it and cover with plastic wrap. Let the dough rest in a warm place for 1.5 hours until it has doubled in size.

Tear the dough into 10 pieces and roughly form into small balls. Roll the dough out into disks using a rolling pin. Place disks onto a baking sheet and cover with plastic wrap for 20 minutes.

Once the dough has risen slightly, brush with olive oil and spread a generous amount of chicken mix onto the dough leaving about a 1/4 " border around the discs. Bake for 15 minutes at 400F until the edges of the dough are lightly golden.

Sprinkle with Zaatar if desired.
Ingredients
For the Chicken Mix

1 lb Mina ground chicken

1 onion, finely diced

3 cloves garlic, finely chopped

2 T parsley, finely chopped

2 T cilantro, finely chopped

4 T olive oil

2 tomatoes, finely chopped

½ t chili flakes

2 t smoked paprika

2 t all spice

1 T tomato paste

2 t kosher salt

Pepper to taste

For the Manakish Dough

2 cups All Purpose flour

1 T active dry yeast

1 t sugar

1 t kosher salt

3 T olive oil, plus more for brushing the dough

½ cup luke warm water, plus more if needed

Zaatar, optional