Delicious & Convenient Recipes
Dinnertime is Mina Time™. Looking for Inspiration?
Find the perfect recipe for any occasion
Braised Chicken with Apricots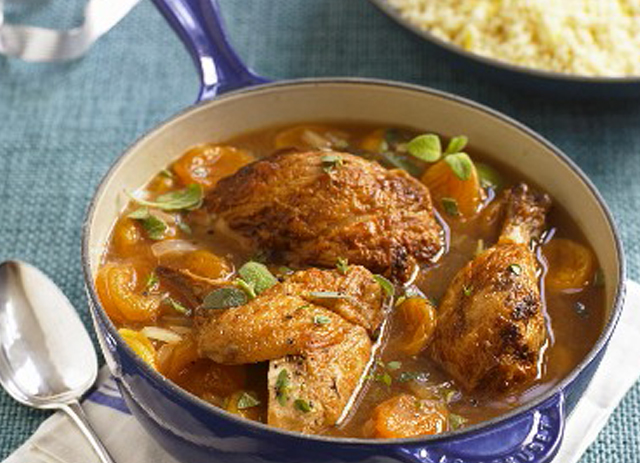 Prep Time:

20 min

Total Time:

50 min

Servings:

4
The aromas of exotic spices, sweet onions and apricots will fill your house whilst preparing this lovely braised chicken.
DIRECTIONS
PREHEAT oven to 350˚F (180˚C).

SEASON chicken with salt and pepper. Heat oil in a large skillet or Dutch oven over medium high. Cook chicken until 2-3 minutes per side or until golden and crispy. Remove chicken from pan. Pour off all but 2 tbsp (30 mL) of oil.

ADD onions and garlic. Cook, scraping up any brown bits from the bottom of the pan, until onions are soft. Add cinnamon, cardamom, and paprika. Cook an additional minute. Add apricots, ½ the chopped sage, vegetable broth and lemon juice. Return chicken to the pan. Nestle chicken down into the broth until part way covered. Cover and place in preheated oven for 30 minutes. Serve chicken and sauce garnished with remaining sage.
Ingredients
1 Pkg Mina™ Chicken Leg Quarters, split into thighs and drumsticks
Salt and pepper
2 tbsp (30 mL) Vegetable oil
2 Onions, diced
6 Cloves garlic, minced
2 Cinnamon sticks
1 tsp (5 mL) Ground cardamom
1 tbsp (15 mL) Paprika
1 cup (250 mL) Dried apricots, halved
3 cups (750 mL) Vegetable broth
2 tbsp (30 mL) Fresh lemon juice
10 Sage leaves, chopped, divided