Delicious & Convenient Recipes
Dinnertime is Mina Time™. Looking for Inspiration?
Find the perfect recipe for any occasion
Buttermilk Fried Chicken Fingers with Clove & Honey Mustard Dipping Sauce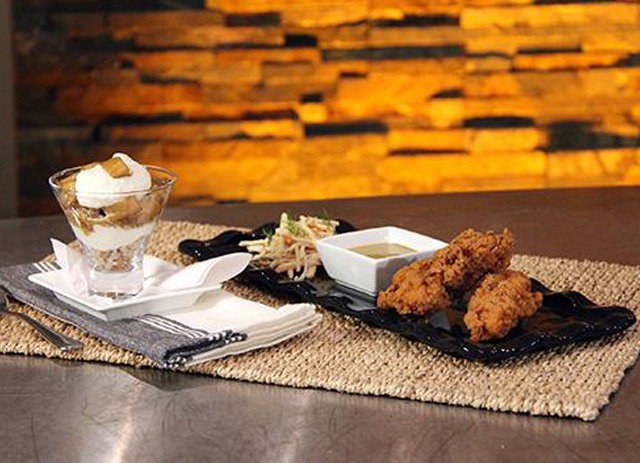 Prep Time:

15 min

Total Time:

25 min

Servings:

3
Nothing beats a classic chicken and potato dish with an added flare of fresh sage and rosemary, tomato, sweet potato, spinach leaves, and white cheddar cheese.
DIRECTIONS
Fried Chicken

Marinate chicken breast in half of the buttermilk. Pour the rest of the buttermilk into a separate bowl and set aside.

Mix the flour with all of the spices and salt. Dip the chicken strips in the flour to coat. Dust off the flour and dip the chicken in the buttermilk.

Remove the chicken from the buttermilk and dip it back into the flour mixture. Dust off the excess flour and place on a parchment paper lined cookie sheet.

Place the breaded chicken strips in the fridge for 1 hour to allow the coating to adhere to the chicken. While chicken is in fridge, preheat pot with oil to 300F.

Fry the strips in oil until they are golden brown & have reached an internal temperature of 165F. This should take about 5-7 minutes.

Clove & Honey Mustard Sauce

Combine all ingredients together until smooth.

Fennel Slaw

Using a mandolin set to the julienne setting, slice the fennel. Repeat with both carrots (unpeeled) and the apple (unpeeled). Place all julienned vegetables in a bowl and set aside.

In a separate bowl mix the mayonnaise, mustard, lemon juice and clove until smooth.

Pour the dressing over the vegetables and toss to coat and season with salt.

Ingredients
Fried Chicken:
3 Mina™ Boneless Skinless Chicken Breasts, sliced into strips
1 L Buttermilk
3 cups Flour
1/4 cup Garlic powder
2 tbsp Salt for flavouring
1/4 cup Smoked paprika
1/8 cup Dried oregano
1/8 cup Dried thyme
1 L Vegetable oil
Clove & Honey Mustard Sauce
1 cup Dijon mustard
1/2 cup Honey
1 tbsp Grand clove
Fennel Slaw
1/2 Fennel bulb & fronds
2 Large carrots
1 Granny smith apple
1/2 cup Mayonnaise
1 tbsp Dijon mustard
1 tbsp Lemon juice
1/4 tbsp Grand clove
Salt for flavouring