Delicious & Convenient Recipes
Dinnertime is Mina Time™. Looking for Inspiration?
Find the perfect recipe for any occasion
Chicken Cutlets with Crunchy Coleslaw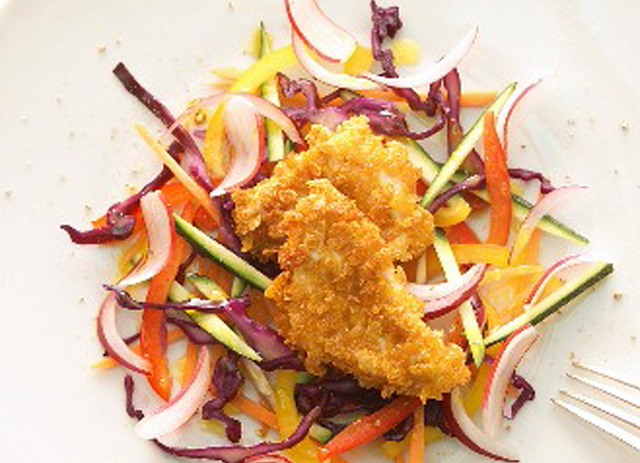 Prep Time:

20 min

Total Time:

40 min

Servings:

4
Double crunch! Crispy breaded chicken cutlets with a crunchy creamy coleslaw.
DIRECTIONS
CRUNCHY COLESLAW:
TOSS together peppers, cabbage, carrots, zucchini and red onion.

WHISK together mayonnaise, mustard, honey and lemon juice. Pour over salad and toss to coat.

CHICKEN CUTLETS: 
ARRANGE chicken on a cutting board.  Place plastic wrap overtop of each chicken breast.
LIGHTLY pound out each chicken breast using a meat mallet or a heavy pot to about 1" thick.  Cut each breast in half, lengthwise.
SET up breading station by beating eggs in a shallow dish. Combine bread crumbs, salt and pepper in a separate shallow dish. Dip chicken into egg mixture and then coat with breadcrumbs.

HEAT oil in a large skillet over medium-high heat. Fry chicken for 2-3 minutes per side, or until golden brown and the internal temperature reaches 165°F (74°C).

SERVE chicken on top of crunchy coleslaw.
Ingredients
CHICKEN CUTLETS:
2 Eggs
1 1/2 cups (375 mL) Panko bread crumbs
1 tsp (5 mL) Salt
1/2 tsp (2 mL) Pepper
3 Mina™ Boneless Skinless Chicken Breasts
CRUNCHY COLESLAW:
1/2 Red bell pepper, julienned
1/2 Yellow bell pepper, julienned
1 cup (250 mL) Shredded cabbage
1 cup (250 mL) Shredded carrots
1 Small zucchini, julienned
1/2  Red onion, sliced
1/4 cup (60 mL) Mayonnaise
1 tbsp (15 mL) Whole grain mustard
1 tbsp (15 mL) Honey
1 1/2 tsp (7 mL) Lemon juice