Delicious & Convenient Recipes
Dinnertime is Mina Time™. Looking for Inspiration?
Find the perfect recipe for any occasion
Chicken Chopped Salad with Cauliflower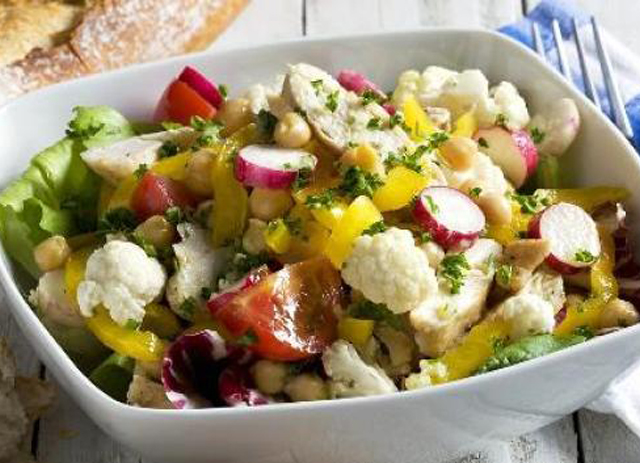 Prep Time:

20 min

Total Time:

25 min

Servings:

6
A new twist on an old favourite. Chop salad kicked up with chick peas, radicchio, cauliflower, crunchy radishes and chunks of chicken. Toss it together with sweet-tart honey mustard vinaigrette. Truly a flavour explosion.
DIRECTIONS
FILL a large skillet with 1 ½ inches (4 cm) of salted water and bring to a boil. Add chicken, cover, reduce heat and gently simmer for 8 to 10 minutes. Remove from heat, do not remove cover and let chicken steam about 12 minutes. Internal temperature of chicken should read 165°F (74°C).

REMOVE chicken from skillet, reserve cooking water and allow chicken to cool enough to handle. Cut into bite size pieces and set aside.

BRING cooking water back to a boil. Add cauliflower and cook 5-7 minutes or until tender crisp. Drain and set aside to cool.

COMBINE Dijon, honey, garlic and cider vinegar in a small bowl. Slowly whisk in olive oil to combine. Season with salt and pepper.

COMBINE all salad ingredients together in a large salad bowl; toss with vinaigrette and serve.
Ingredients
SALAD:
4 Mina™ Boneless Skinless Chicken Breasts
3 cups (750 mL) Cauliflower florets
1 Yellow pepper, cut in strips
1 Bunch radishes, sliced
1/2 Small head lettuce, torn into bite size pieces
1 Small head radicchio, torn into bite size pieces
1 (19 oz/541 mL) Can chick peas, drained
1 tbsp (15 mL) Chopped parsley

VINAIGRETTE:
2 tsp (10 mL) Dijon mustard
2 tsp (10 mL) Honey
1 Clove garlic, minced
1/4 cup (60 mL) Cider vinegar
1/4 cup (125 mL) Extra virgin olive oil