Delicious & Convenient Recipes
Dinnertime is Mina Time™. Looking for Inspiration?
Find the perfect recipe for any occasion
Creamy Chicken and Vegetable Fettuccini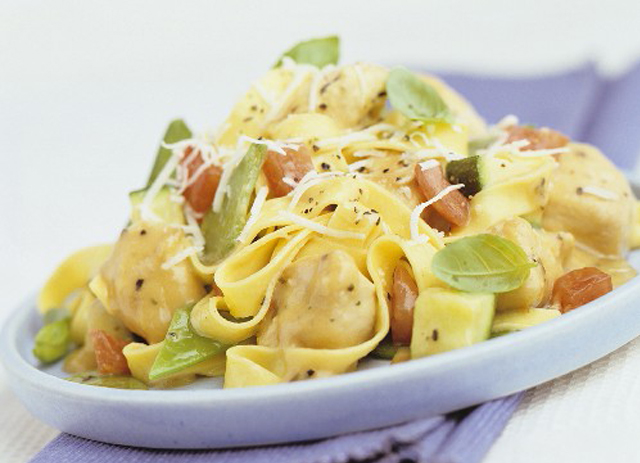 Prep Time:

20 min

Total Time:

40 min

Servings:

4
A simple pasta dish that includes a luscious creamy chicken and vegetable sauce tossed with al dente strands of pasta.
Ingredients
1/2 lb (225 g) Fresh snap peas
2 tbsp (30 mL) Olive oil
3 Mina™ Boneless Skinless Chicken Breasts, cut into bite-size pieces
1 Onion, diced
2 Cloves garlic, minced
1 Medium zucchini, chopped
1 1/4 cup (300 mL) Table cream (18 %)
Salt and pepper
2 Tomatoes, diced
1 lb (454 g) Fettucini or Tagliatelle pasta
1/4 cup (60 mL) Freshly grated Parmesan cheese Fresh basil to garnish
DIRECTIONS
BRING a large pot of salted water to a boil. Place snap peas into boiling water for 2 minutes. Drain and submerge in ice water to stop cooking. Once cooled, drain, cut into bite-size pieces and set aside.

HEAT oil in a large skillet over medium-high heat. Sauté chicken until browned on all sides, 6-8 minutes. Remove and set aside.

ADD onions and garlic to the same pan. Sauté for 2-3 minutes. Add zucchini and cook 2-3 more minutes. Add chicken, cream, salt and pepper. Reduce heat to medium and simmer 5 minutes or until creamy. Add snap peas and tomatoes. Adjust seasoning.

COOK pasta according to package instructions. Drain and toss with chicken-cream sauce. Sprinkle with Parmesan and basil before serving.