Delicious & Convenient Recipes
Dinnertime is Mina Time™. Looking for Inspiration?
Find the perfect recipe for any occasion
Braised Moroccan Chicken and Vegetables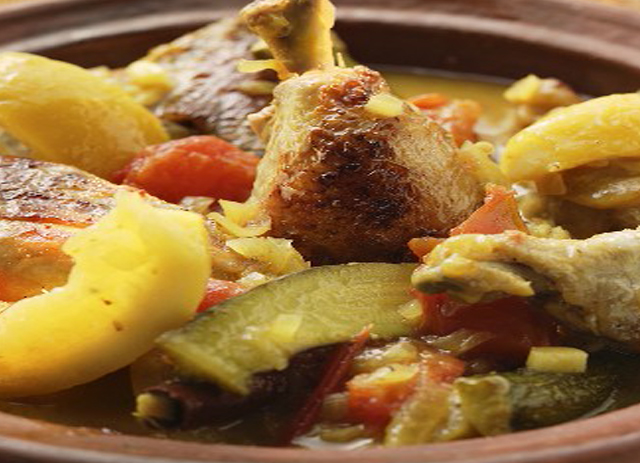 Prep Time:

20 min

Total Time:

1 hr 10 min

Servings:

4
Unique and exotic highly spiced stewed chicken with tender vegetables for a heart-warming flavour.
DIRECTIONS
TOSS chicken in flour seasoned with salt and pepper.

HEAT oil in a large heavy bottomed pot over medium-high heat. Working in batches, cook chicken until nicely brown on all sides. Transfer chicken to a baking tray and set aside.

REDUCE heat to medium and add onions to the pot. Sauté 6-8 minutes or until golden brown. Add cinnamon, ginger, turmeric and cayenne and cook for 1 minute. Increase heat to high. Add broth, zucchini and tomatoes. Place chicken on top of vegetables and return to a boil. Reduce heat, cover and simmer about 15 minutes. Add lemon wedges to the pot. Cover and continue to cook for an additional 15 minutes. The chicken should be falling from bones and the internal temperature should be at least 185°F (85°C).
Ingredients
8-10 Mina™ Chicken Drumsticks
1 tbsp (15 mL) Flour
Salt and Pepper
1 tbsp (15 mL) Olive oil
4 Small onions, quartered
3 Cinnamon sticks
2 tsp (10 mL) Ground ginger
1 tsp (5 mL) Cumin
1/2 tsp (2 mL) Turmeric
1/4 tsp (1 mL) Cayenne pepper
3 cups (750 mL) Chicken broth
3 Small zucchini, quartered lengthwise
3 Tomatoes, quartered
2 Lemons, cut in wedges