Delicious & Convenient Recipes
Dinnertime is Mina Time™. Looking for Inspiration?
Find the perfect recipe for any occasion
Baked Chicken And Potato Medley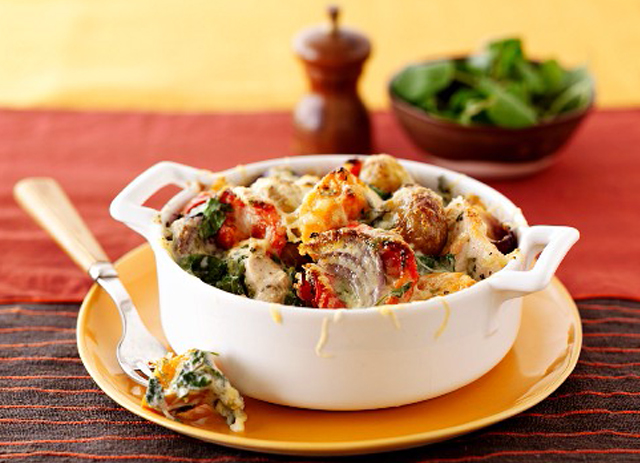 Prep Time:

25 min

Total Time:

1 hr 30 min

Servings:

6
Nothing beats a classic chicken and potato dish with an added flare of fresh sage and rosemary, tomato, sweet potato, spinach leaves, and white cheddar cheese.
DIRECTIONS
PREHEAT oven to 375°F (190°C).

SEASON chicken with salt and pepper. Place on a parchment paper lined baking sheet and cover with aluminum foil. Bake for 20 minutes or until chicken is tender and the internal temperature reaches 165°F (74°C). Cool and cut into bite sized pieces. Reduce oven temperature to 325°F (160°C).

PLACE baby potatoes in a large pot of salted water. Bring to a boil, reduce heat to medium and simmer for 10 minutes, until just par-boiled. Remove from heat, drain, cool and cut into halves.

HEAT olive oil in a large skillet. Add onions and sauté for about 1 minute. Add garlic and sweet potatoes, cook for another 2 minutes, stirring to coat potatoes. Cover the pan and cook on low heat for 10 minutes or until potatoes are tender crisp but not cooked. Transfer to a large bowl. Add chicken pieces, baby potatoes, cherry tomatoes, sun-dried tomatoes and spinach leaves. Stir in breadcrumbs and season with salt and pepper.

LAYER the chicken mixture with cheese in a 9" (2.5 L) square baking dish, set aside.

BEAT the remaining ingredients together in a medium bowl. Pour over chicken, vegetables and cheese and bake for 1 hour.


Ingredients
1 Package Mina™ Boneless Skinless Chicken Breasts
Salt and pepper
2 cups (500 mL) Baby potatoes
2 tbsp (30 mL) Olive oil
1 Red onion, sliced
3 Cloves garlic, minced
2 cups (500 mL) Sweet potatoes, sliced
1 cup (250 mL) Cherry tomatoes, halved
1/4 cup (60 mL) Sun-dried tomatoes, finely chopped
2 cups (500 mL) Fresh spinach leaves
1 1/2 (375 mL) Breadcrumbs
2 cups (500 mL) White Cheddar cheese, grated
2 Eggs
2 cups (500 mL) whipping cream
1/4 tsp (2 mL) Nutmeg
1 tbsp (15 mL) Fresh sage, finely chopped
1 tbsp (15 mL) Fresh rosemary, finely chopped