Delicious & Convenient Recipes
Dinnertime is Mina Time™. Looking for Inspiration?
Find the perfect recipe for any occasion
Chicken Kofta with Cucumber Raita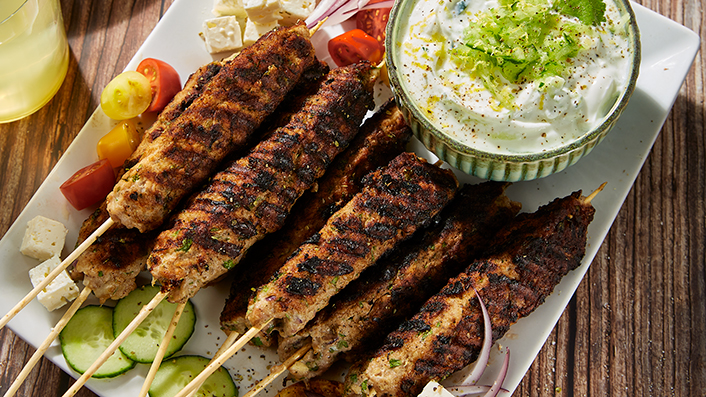 Prep Time:

15 min

Total Time:

45 min

Servings:

3 to 4
DIRECTIONS
In a medium bowl combine all the ingredients for the raita and mix together. Season with salt and pepper to taste.  Cover and refrigerate until need.
Preheat grill to 400 F.
In a large bowl combine kofta ingredients -  chicken, parsley, onion, garlic, cumin, coriander, cinnamon, cloves, nutmeg, salt and pepper.  Let the mixture sit at room temperature for 15 minutes before molding.
Wet your hands, then mold about ¼ cup of chicken mixture into an oval shape.  Lay out on a baking sheet lined with parchment paper.  Repeat with the remaining mixture.
Making sure your grill grates are well oiled, gently place chicken on the grill.  Cook for approx. 5 minutes then flip.  Continue to cook until internal temperature reaches 165F on a meat thermometer.
Let Kofta rest for 5 minutes before serving. Serve with raita. 
Ingredients
For Kofta

1 lb Mina ground chicken

¼ cup Italian parsley, finely chopped

½ small onion, grated

1 garlic clove, finely grated

1 teaspoon ground cumin

½ teaspoon cinnamon

½ teaspoon ground coriander

¼ teaspoon ground cloves

¼ teaspoon ground nutmeg

1 teaspoon salt

Freshly ground pepper

For Raita

1 English cucumber, halved lengthwise, seeded, grated and squeezed of excess moisture

2 cups plain Greek yogurt

2 Tablespoon lemon juice

1 clove garlic, finely grated

¼ cup dill, finely chopped

¼ cup Italian parsley, finely chopped

1/2 teaspoon ground cumin

Salt and pepper