Delicious & Convenient Recipes
Dinnertime is Mina Time™. Looking for Inspiration?
Find the perfect recipe for any occasion
Chicken and Kidney Bean Stew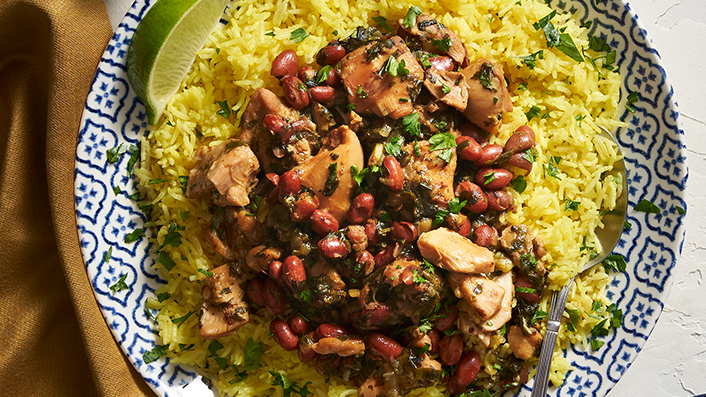 Prep Time:

15 min

Total Time:

60 min

Servings:

4 to 6
DIRECTIONS
In a dutch oven on medium high heat add the olive oil, chicken thighs and 1 teaspoon of salt and cook until the chicken is lightly golden, approx. 8 minutes.

Remove the chicken from the pot with a slotted spoon and reserve in a bowl.

Turn the heat down to medium low and add the onions and garlic and cook until the onion is translucent.

Add the turmeric, sumac and fennel pollen and stir to coat the onions with the spices.

Stir in the parsley, cilantro and scallions and cook until wilted, approx. 5 minutes.

Return the chicken to the pot with the chicken stock, kidney beans and 1 teaspoon of salt.

Bring the soup to a boil, then reduce the heat to a gentle simmer and cook for 25 to 30 minutes.

Adjust the seasoning with fresh lime juice to taste and salt and pepper as needed.
Ingredients
2 lbs Mina boneless, skinless chicken thighs cut into 1" pieces

3 T olive oil

1T+1t turmeric

1 lg onion, diced

2 lg cloves garlic, chopped

1 t fennel pollen

1 t sumac

1 cup scallion, finely sliced

1.5 L chicken stock

2 19 oz cans kidney beans, drained and rinsed well

2 cups parsley, roughly chopped

2 cups cilantro, roughly chopped

Fresh lime juice

2 t kosher salt

Pepper