Delicious & Convenient Recipes
Dinnertime is Mina Time™. Looking for Inspiration?
Find the perfect recipe for any occasion
Yogurt and Lemon Roasted Chicken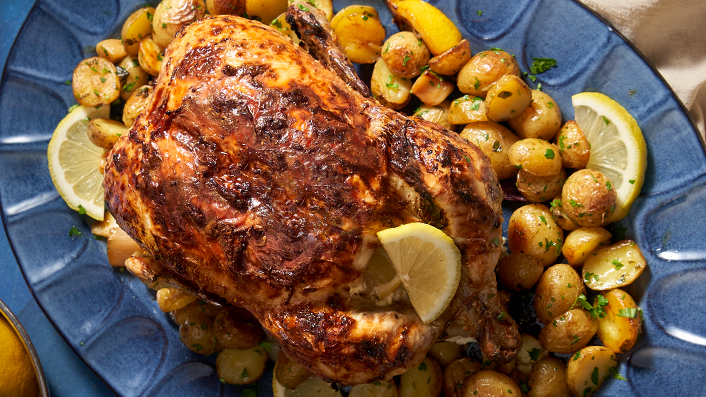 Prep Time:

10 min

Total Time:

65 min (marinate for up to 24 hours before cooking)

Servings:

4
DIRECTIONS
In a small bowl whisk together the yogurt, garlic, zaatar, and lemon zest.

Place the chicken in a large bowl and using your hands cover the chicken with the yogurt mixture getting into all the crevices of the chicken. Cover with plastic wrap and refrigerate for 8 to 24 hours.

Preheat oven to 400 F

Take the chicken out of the fridge 1 hour before cooking to allow the chicken to come to room temperature.

Stuff the cavity of the chicken with the lemon wedges, if all four do not fit do not worry. Sprinkle the salt and pepper over the chicken. Place the chicken in a suitable sized cast iron skillet and put in the oven with the legs facing to the back of the oven.

Cook for 30 minutes at 400 F.

While the chicken is cooking melt the butter.

After 30 minutes, pour the melted butter over the chicken. Turn the heat down to 375 F and continue to cook until the thickest part of chicken registers 170 F on a meat thermometer. If the chicken skin is getting too dark, loosely cover the chicken with tin foil. The total cooking time is about 75 minutes.

Let the chicken rest for 15 to 20 minutes before carving.
Ingredients
1 3 to 4 lb whole, fresh Mina chicken

½ cup full fat Greek yogurt

2 cloves garlic, finely grated

Zest of 1 lemon, finely grated and the lemon quartered

1 T zaatar

1 t salt

Pepper

1 T unsalted butter 1 3 to 4 lb whole, fresh Mina chicken

½ cup full fat Greek yogurt

2 cloves garlic, finely grated

Zest of 1 lemon, finely grated and the lemon quartered

1 T zaatar

1 t salt

Pepper

1 T unsalted butter