Delicious & Convenient Recipes
Dinnertime is Mina Time™. Looking for Inspiration?
Find the perfect recipe for any occasion
Tunisian Chicken and Olives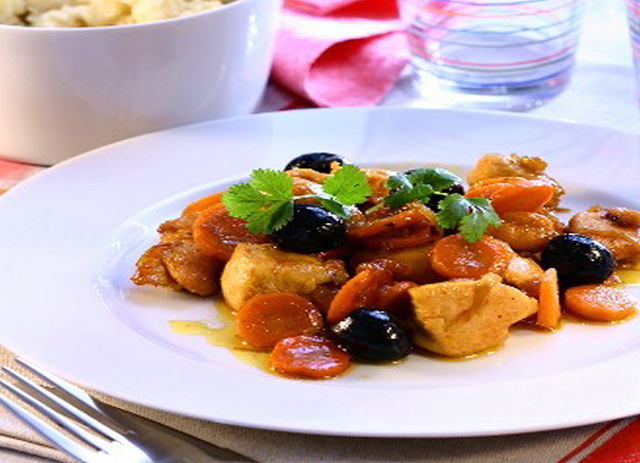 Prep Time:

20 min

Total Time:

1hr 0 min

Servings:

4
Rich in spice, this savoury chicken and olive dish brings Tunisian charm to your dining table.
DIRECTIONS
HEAT oil in a large heavy bottomed pan over medium heat. Add onion and sauté until golden brown, about 7-8 minutes. Stir in garlic, paprika, cumin, ginger and cinnamon. Add broth and bring to a boil. Add chicken, cover, reduce heat and simmer 20-25 minutes. Add carrots and raisins. Cover and simmer 10-15 minutes. Cook until carrots are fork tender.

REMOVE carrots and chicken with a slotted spoon. Set aside.

ADD lemon juice and olives to the pan. Increase heat to high and cook, uncovered for 5-6 minutes or until sauce thickens slightly. Season with salt and pepper. Add chicken and carrots back to pan and warm through.
Ingredients
2 tbsp (30 mL) Olive oil
1 Onion, peeled and chopped
2 Cloves garlic, peeled and crushed
1 tbsp (15 mL) Paprika
2 tsp (10 mL) Ground cumin
1 tsp (5 mL) Ground ginger
1 tsp (5 mL) Ground cinnamon
2 cups (500 mL) Low-sodium chicken broth or vegetable broth
3 Mina™ Boneless Skinless Chicken Breasts, cut into bite-size pieces
6 Carrots, peeled and sliced
1/2 cup (125 mL) Golden raisins
2 tbsp (30 mL) Lemon juice
1/2 cup (125 mL) Black olives
Salt and pepper