Delicious & Convenient Recipes
Dinnertime is Mina Time™. Looking for Inspiration?
Find the perfect recipe for any occasion
Tomato Saffron Braised Chicken Thighs with Olives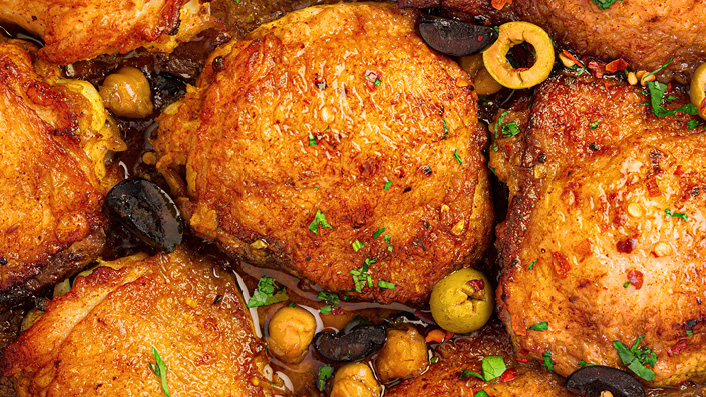 Prep Time:

15 mins

Total Time:

1 hr

Servings:

4 portions
DIRECTIONS
In a large bowl combine the chicken and all the ingredients for the marinade and mix to coat the chicken with the spices.  Place in the fridge and marinate for 12 hours.

Preheat oven to 400 F

Take the chicken out of the fridge, place the thighs on a baking tray, pick off any pieces of garlic and season with salt on both sides.

Palace 1 tablespoon of oil in a large skillet on medium heat.

Working in 2 batches, sear chicken, skin side down for 3 to 5 minutes until golden brown.  Flip and cook the flesh side for another minute or.  Remove chicken from the pan, repeat with the second batch pouring off any excess fat from the chicken.

Using the fat/oil left from the second batch of chicken, add the onion and cooking, stirring frequently, for 5 minutes until light golden.  Add spices, garlic and cook for 1 more minutes until fragrant.

Add tomato, chickpeas and chicken stock and bring to a boil.

Nestle the chicken thighs skin side up in the cooking liquid making sure that only the skin of the chicken is exposed.  The liquid should cover ¾ of the chicken thighs.

Place on the middle rack in the oven and cook for 40 minutes.

Remove chicken from the oven.  Place chicken thighs on a baking sheet.  Stir the olives, coriander and lemon juice and adjust seasoning with salt and pepper.  Add chicken back to the pan and serve.
Ingredients
2 lbs (8) Mina Bone in, skin on chicken thighs

For marinade

1 teaspoon ground ginger

1 teaspoon paprika

½ teaspoon cumin

2 Tablespoons olive oil

2 cloves garlic, thinly sliced

For braising chicken

¼ teaspoon saffron, paprika, turmeric, cumin

2 onions, grated and squeezed of their juice

1 lg hot house tomato, grated

1 cup chickpeas, drained and rinsed

½ cup olives, pitted and quartered (a mixture of black and green)

1 cup chicken stock

2 cloves garlic, thinly sliced

1 Tablespoon olive oil

¼ cup coriander, roughly chopped

1 Tablespoon lemon juice

Salt and pepper