Delicious & Convenient Recipes
Dinnertime is Mina Time™. Looking for Inspiration?
Find the perfect recipe for any occasion
Three Cheese and Pepper Chicken Burger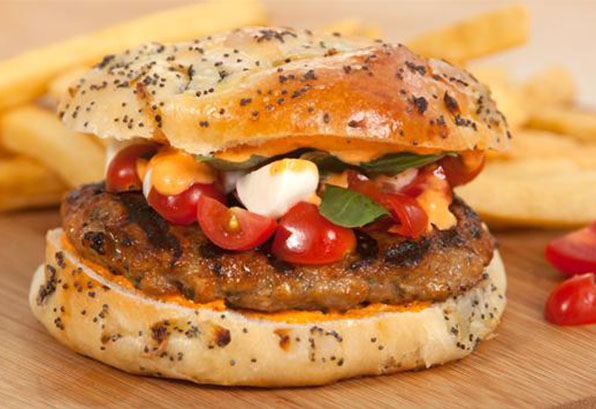 Prep Time:

20 min

Total Time:

35 min

Servings:

4
Delicious medley of cheese, complimented by fresh basil and Bocconcini cheese, roasted pepper and tomatoes.
DIRECTIONS
PREHEAT BBQ to medium.

MIX together minced chicken, Provolone cheese, Parmesan cheese, roasted red pepper, egg yolk, breadcrumbs, garlic, fresh basil, salt and pepper.

DIVIDE into four patties. Lightly grease the grill and cook burgers for 6-8 minutes per side or until the internal temperature reaches 165°F (74°C).

MEANWHILE, using a small bowl mix the Bocconcini, cherry tomatoes, olive oil and parsley if using. Season to taste with salt and pepper.

Spread each bun with the roasted red pepper dip. Place a cooked burger on top followed by a generous amount of the red pepper, Bocconcini, tomato mixture. Sprinkle with additional chopped basil and serve topped with the other half of the bun.

Tip:

Roast your own red pepper by placing on a hot grill, turning frequently until the skin is charred. Set aside to cool. When cool, peel the skin, remove the seeds, and dice.
Ingredients
1 lb (454 g) Mina Halal® Lean Ground Chicken

1/2 cup (125 mL) Grated Provolone cheese

1/4 cup (60 mL) Freshly grated Parmesan cheese

1 Egg yolk

1/3 cup (80 mL) Breadcrumbs

2 Cloves garlic, minced

2 tbsp (30 mL) Minced fresh basil

Salt and pepper

1/2 Roasted red pepper, diced

12 Cocktail Bocconcini, quartered

1/2 pint Cherry tomatoes, quartered

1 tbsp (15 mL) Olive oil

2 tbsp (30 mL) Chopped fresh parsley (optional)

4 Onion buns, split and lightly toasted

4 tbsp (60 mL) Roasted red pepper dip