Delicious & Convenient Recipes
Dinnertime is Mina Time™. Looking for Inspiration?
Find the perfect recipe for any occasion
Tandoori Style Chicken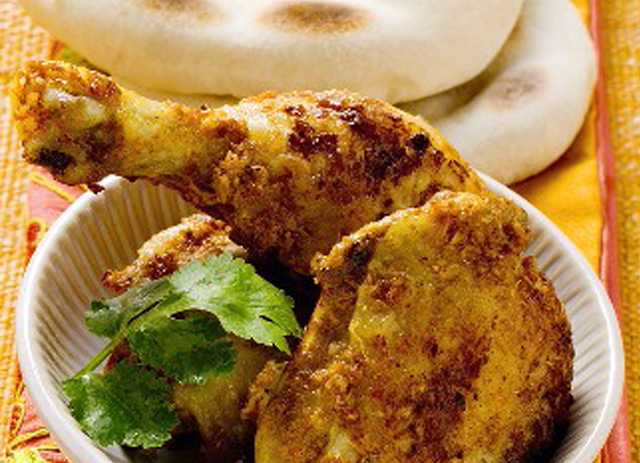 Prep Time:

20 min

Total Time:

1hr 05 min

Servings:

4-6
Aromatic Indian spices blended together to create an exotic taste experience.
DIRECTIONS
MAKE several slits in the skin side of the chicken pieces. Place in a large re-sealable plastic bag.

MIX together the remaining ingredients, except cilantro. Spoon mixture over chicken and massage into chicken. Refrigerate for minimum 4 hours and up to overnight.

PREHEAT BBQ to medium-high for indirect grilling (heat only one side of BBQ). Lightly coat grill with non-stick cooking spray. Grill chicken, over direct heat, about 4 minutes on each side. Move to indirect heat (area where burner is not on), cover chicken lightly with foil and cook for 30 to 40 minutes or until the internal temperature reaches 185°F (85°F).

TRANSFER chicken to a serving dish and garnish with cilantro.
Ingredients
1 Package Mina™ Chicken Leg Quarters, split into thighs and drumsticks
Salt & pepper
3/4 cup (175 mL) Plain yogurt
1 tbsp (15 mL) Chili powder
1/4 tsp (1 mL) Turmeric
1 tsp (5 mL) Ground coriander
1 tbsp (15 mL) Garam masala
1 tbsp (15 mL) Grated fresh ginger root
1 Clove garlic, minced
1 tbsp (15 mL) Lemon juice
1 tsp (5 mL) Salt
1 tbsp (15 mL) Olive oil
Fresh cilantro to garnish