Delicious & Convenient Recipes
Dinnertime is Mina Time™. Looking for Inspiration?
Find the perfect recipe for any occasion
Tandoori Roasted Chicken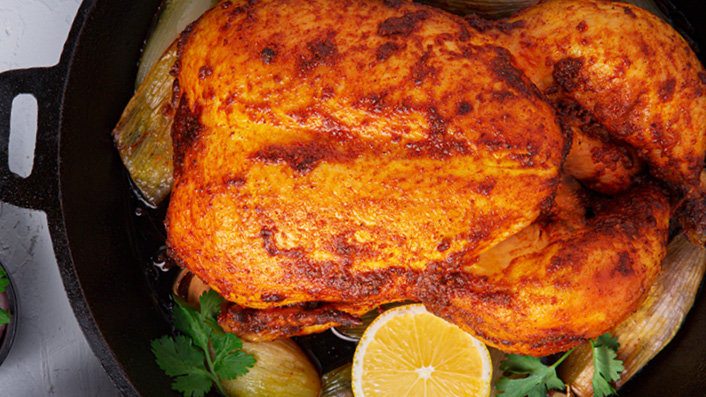 Prep Time:

10 min

Total Time:

1hr 30mins

Servings:

4 portions
DIRECTIONS
Preheat oven to 450 F

In a large bowl add 2 tablespoons of olive oil, brown sugar, 2 teaspoons of salt and tandoori spice.  Add the chicken to the bowl and massage the spice all over the chicken making sure the entire chicken is coated.  Leave at room temperature for 30 minutes to 1 hour to marinate.

In a 12" cast iron pan or in a 9" by 11" roasting pan add garlic, shallots, 1 tablespoon of olive oil and 1 teaspoon of salt.  Gently mix so everything is coated with oil and salt.

Place the chicken, breast side up, on top of the garlic and shallots and place on the middle rack of the oven with the legs pointing the back of the oven.

Roast for 30 minutes at 450 F, take the chicken out of the oven and carefully stir the shallots and garlic so they cook evenly.

Turn the oven down to 425 F, loosely cover the chicken with tin foil and return to oven and cook for another 30 to 45 minutes until the thickest part of the chicken thigh hits 165 F with a meat thermometer.

Remove foil and let chicken rest in the pan for 20 to 25 minutes.  Tilt the chicken using a pair of tongs so the juices drip into the pan.  Using your hands gently squeeze the skins of the garlic bulbs to release the roasted garlic cloves, discarding the skins.  Stir coriander into the shallots and onions.
Ingredients
1 3 to 4 lb Mina fresh, whole chicken

1 Tablespoon Tandoori spice

½ teaspoon brown sugar

3 teaspoons kosher salt, divided

3 Tablespoons olive oil, divided

2 heads of garlic, cut in half horizontally, skins left on

7 torpedo shallots, peeled, cut in half length wise through the core

¼ cup coriander, roughly chopped