Delicious & Convenient Recipes
Dinnertime is Mina Time™. Looking for Inspiration?
Find the perfect recipe for any occasion
Summer Scallion and Ginger Chicken Burgers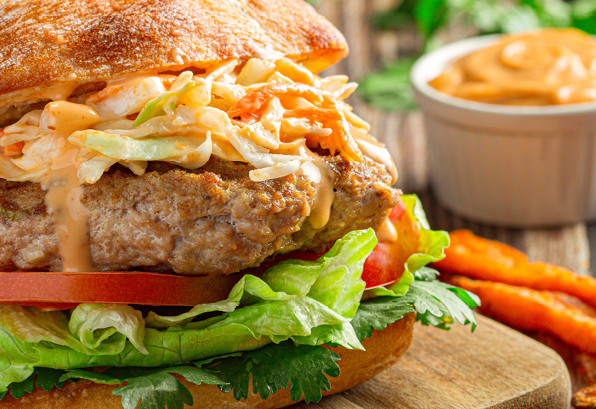 Prep Time:

15 min

Total Time:

30 min

Servings:

3
DIRECTIONS
Preheat BBQ to 450 F

In a small pan on low heat, add sesame oil til warm. Then, add scallion and cook for 1 to 2 minutes until soft. Add garlic and continue to cook for one more minute until fragrant. Remove pan from heat, add ginger and stir to combine. Set aside and let cool.

In a small bowl, add all ingredients for the aioli, whisk thoroughly to combine. Set aside.

In a large bowl combine minced chicken, reserved scallion & sesame oil mixture, coriander, salt and pepper. Mix thoroughly with a gentle hand, being careful not to overwork.

Divide the chicken mixture into 3 equal portions. Roll each portion into a ball. Then, press gently with your palm to flatten each ball into a patty.

Prepare grill with cooking spray or lightly oil. before grilling.

Grill burgers for 5 to 6 minutes per side, ensuring the internal temperature reaches 165F.

Dress each burger with a spoonful of aioli, lettuce and a slice of tomato.
Ingredients
1 lb Mina fresh minced chicken

1 clove garlic, finely chopped

3 scallions, dark green parts removed, halved length wise and finely sliced

1 Tablespoon ginger, finely grated

2 teaspoons sesame oil

1.5 teaspoons kosher salt

2 Tablespoons coriander, roughly chopped
Pepper


For the assembly

3 brioche hamburger buns

3 pcs iceberg lettuce

3 slices tomato


For the Sriracha Aioli

¼ cup mayo

1 teaspoon sriracha

1 teaspoon sesame oil

1 teaspoon fish sauce

2 teaspoons lime juice

1 small clove garlic, finely grated