Delicious & Convenient Recipes
Dinnertime is Mina Time™. Looking for Inspiration?
Find the perfect recipe for any occasion
Stuffed Chicken Parmesan with Bucatini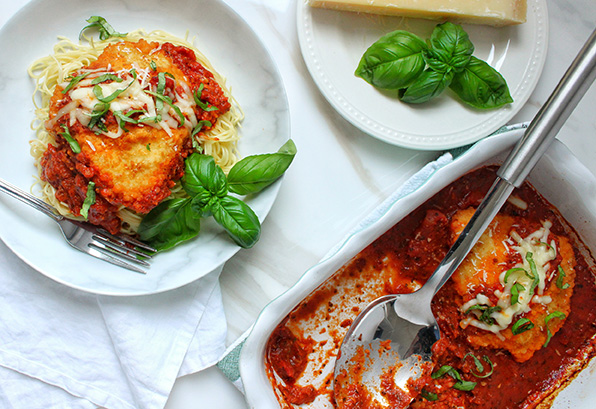 Prep Time:

10 min

Total Time:

35 min

Servings:

2
Take the classic Chicken Parmesan recipe up a notch by using a Mozzarella stuffed chicken breast! This recipe comes together in under 30 minutes and will please all taste buds (including those picky eaters!).
DIRECTIONS
Start by placing the Mina Halal mozzarella stuffed chicken pieces on a glass baking dish and cook in the oven per package instructions.

Bring a large saucepan of salted water to a boil and add the Bucatini. Cook to al dente for about 6-7 minutes, or per package instructions. Drain and set aside.

Dice the onion and add to a non-stick pan with the vegetable oil. Sautee on medium-high heat for 5 minutes. Add the crushed garlic to the onions and cook for another few minutes.

Add the marinara sauce to the skillet and cook for a further 2 minutes.

Chiffonade the Basil leaves by stacking them, rolling them and slicing using a sharp knife. Add half to the marinara sauce.

When chicken is cooked, remove from the oven and the baking dish and set aside. Pour the marinara sauce into the baking dish and then nestle the chicken back into the sauce. (Optional: if using a pan/skillet that is oven safe, simply place the chicken in the skillet)

Spoon a few tablespoons of sauce on top of the chicken, and sprinkle with both types of cheese.

Place it back into the oven for a few minutes to melt the cheese.

Garnish with the rest of the basil and parmesan cheese and serve over the Bucatini.
Ingredients
2 Mina Halal Mozzarella stuffed chicken

3 Cups (750 mL) marinara sauce (ready or homemade)

½ pound dry Bucatini

½ Onion (large)

3 cloves garlic

2 tbsp (30 mL) vegetable oil

½ cup (125 mL) packed basil leaves

½ cup (125 mL) shaved parmesan

½ cup (125 mL) shredded mozzarella cheese