Delicious & Convenient Recipes
Dinnertime is Mina Time™. Looking for Inspiration?
Find the perfect recipe for any occasion
Spinach and Feta Stuffed Chicken Breasts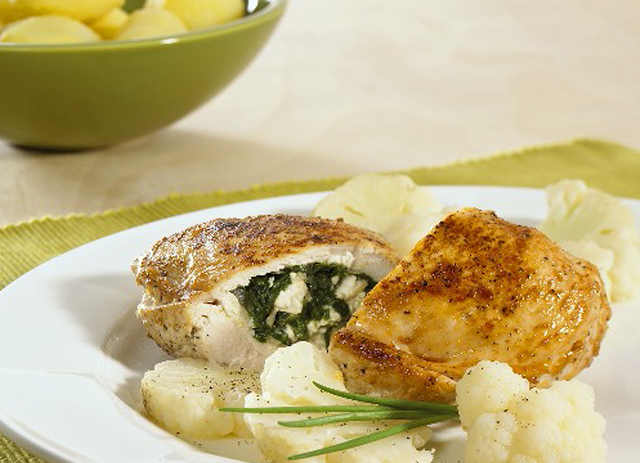 Prep Time:

15 min

Total Time:

40 min

Servings:

4
Everyone loves stuffed chicken - especially this recipe. Sweet caramelized onions, saut'd spinach laced with nutmeg and tangy Feta cheese play together harmoniously.
DIRECTIONS
PREHEAT oven to 375°F (190°C).

HEAT 1 tbsp (15 mL) olive oil over medium-low heat in a fry pan. Add onion and cook 8-9 minutes or until golden brown in colour. Add spinach and cook 2-3 minutes or until completely wilted. Season with salt, pepper and nutmeg. Remove from heat and set aside to cool.

CHOP spinach mixture roughly. Stir in Feta cheese. Set aside.

MAKE a deep horizontal pocket in the center of each chicken breast. Season with salt and pepper. Stuff each breast with spinach mixture.

HEAT butter and remaining oil in a large oven proof skillet, over medium-high heat. Cook chicken on both sides until golden brown. Transfer to the oven and cook for 20-25 minutes or until internal temperature reaches 165°F (74°C).
Ingredients
2 tbsp (30 mL) Olive oil, divided
1 Onion, thinly sliced
3 cups (750 mL) Fresh spinach
Salt and pepper
Pinch nutmeg
1/2 cup (125 mL) Crumbled Feta cheese
4 Mina™ Boneless Skinless Chicken Breasts
1 tbsp (15 mL) Butter