Delicious & Convenient Recipes
Dinnertime is Mina Time™. Looking for Inspiration?
Find the perfect recipe for any occasion
Spicy Baked Chicken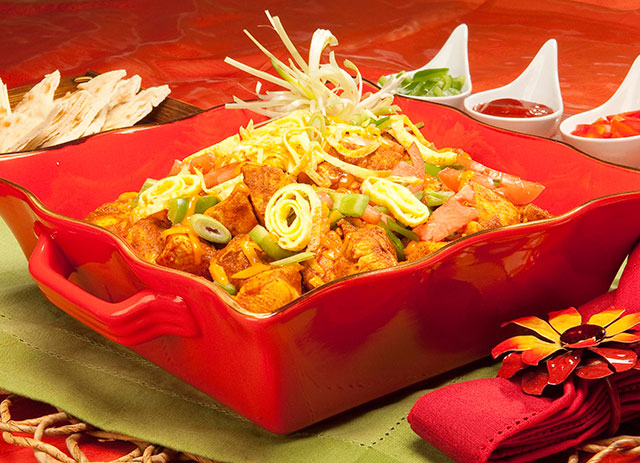 Prep Time:

10 min (not including marinating time)

Total Time:

40 min (not including marinating time)

Servings:

4
A quick and satisfying dish to make for your last minute guests. The mild kick of spices will rock their taste buds.
DIRECTIONS
RUB chicken with ginger garlic paste and marinade in the refrigerator for at least 30 minutes.

COMBINE flour, garam masala, chili powder, cayenne, coriander, turmeric and salt in a medium size bowl.

PREHEAT oven to 350˚F (180˚C).

HEAT oil in large skillet over medium-high. Dredge chicken pieces in seasoned flour and add to the hot pan. Cook, stirring frequently, about 5-6 minutes or until golden brown. Add onion, tomato puree and water. Simmer until mixture has thickened.

TRANSFER chicken mixture to an 8" square (2 L) casserole dish. Top with grated cheese and sliced tomato and green pepper. Drizzle with melted butter and bake in preheated oven for 15 minutes or until the chicken is cooked to an internal temperature of 165˚F (74˚C) and the cheese is bubbly.
Ingredients
1 Package Mina™ Boneless Skinless Chicken Breasts, cut into bite-size pieces
2 tsp (10 mL) Ginger garlic paste
2 tbsp (30 mL) Flour
1 tsp (5 mL) Garam masala
1 ½ tsp (7 mL) Chili powder
1 tsp (5 mL) Cayenne
1 tsp (5 mL) Ground coriander
½ tsp (2 mL) Turmeric
¼ tsp (1 mL) Salt
2 tbsp (30 mL) Vegetable oil
2 Onions, grated
¾ cup (175 mL) Tomato puree
1/2 cup (125 mL) Water
1 cup (250 mL) Grated Cheddar cheese
1 Tomato, cut in thin wedges
1 Green pepper, sliced
1 tbsp (15 mL) Melted butter