Delicious & Convenient Recipes
Dinnertime is Mina Time™. Looking for Inspiration?
Find the perfect recipe for any occasion
Southwest Mina Chicken Nugget Tortilla Bowl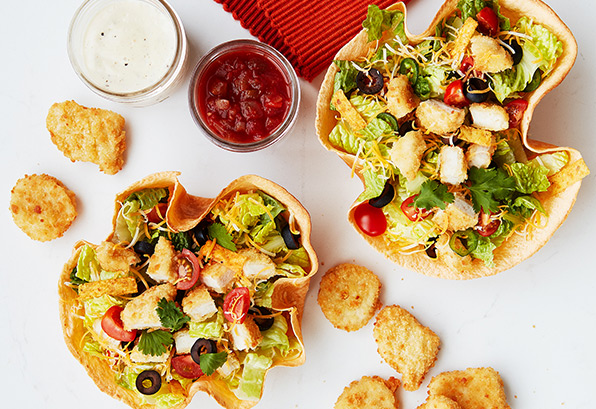 Prep Time:

10 min

Total Time:

35 min

Servings:

4
DIRECTIONS
PREHEAT oven to 450 degrees. Make tortilla bowls by arranging four large sheets of tin foil onto a clean work surface.

STARTING on the outer sheets, bunch up tin foil into the shape of a small bowl. Lightly spray each tortilla with cooking oil.

PUSH tortilla into foil bowl. Crimp the edges to secure.

PLACE bowls onto a baking sheet. Bake for about 5 minutes or until bowls are starting to turn golden. Remove from oven and allow to cool and set. Up to 15 mins.

COOK chicken per package directions. Allow to cool and roughly chop. In a large bowl combine chicken, lettuce, tomato and cheese.

TOSS salad with dressing. Divide salad between tortilla bowl.

GARNISH with salsa, guacamole, corn, beans and crispy tortilla chips if desired.

Tip:

TRY using a flavored tortilla shell.
Ingredients
12 Mina Chicken Breast Nuggets

4 12 inch soft flour tortillas

4 cups (1 L) romaine lettuce, chopped

1 cup (250 mL) cherry tomatoes, halved

½ cup (125 mL) chipotle ranch dressing

½ cup (125 mL) marble or tex mex cheese, shredded