Delicious & Convenient Recipes
Dinnertime is Mina Time™. Looking for Inspiration?
Find the perfect recipe for any occasion
Sfiha Middle Eastern Meat Pasties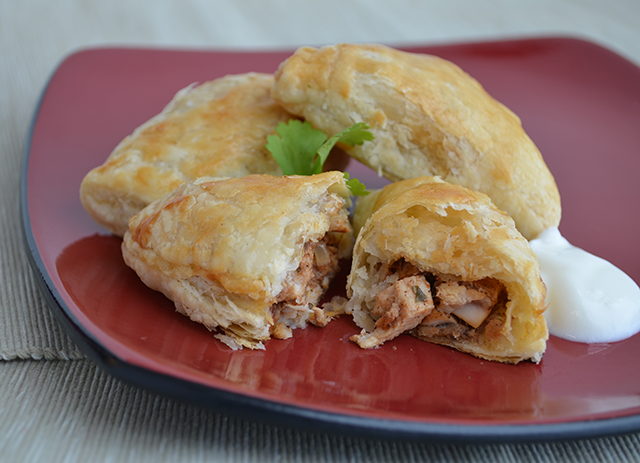 Prep Time:

30 min

Total Time:

1 hr

Servings:

12 (2 pasties per person)
Versions of these meat pasties are found in many Middle Eastern countries such as Syria, Jordan, Lebanon and Iraq.
Ingredients
2 tbsp (30 mL) Butter
1 tbsp (15 mL) Olive oil
1 Onion, finely chopped
2 Cloves garlic, minced
2 tsp (10 mL) Cinnamon
2 tsp (10 mL) Allspice
Pinch cayenne
2 Roma tomatoes, diced
2 Mina™ Boneless Skinless Chicken Breasts, cooked and diced
1/3 cup (80 mL) Pine nuts, toasted
2 tbsp (30 mL) Yogurt
1 tbsp (15 mL) Tahini
2 tbsp (30 mL) Pomegranate syrup
Chopped fresh cilantro
2 (397 g) Packages frozen puff pastry, thawed overnight in the refrigerator
2 Eggs
1 tbsp (15 mL) Water
DIRECTIONS
PREHEAT oven to 375˚F (190˚C). Line 2 baking sheets with parchment paper.

HEAT butter and oil in a large fry pan over medium heat. Add onion and garlic and sauté 5-6 minutes or until soft and fragrant. Add cinnamon, allspice and cayenne. Cook 1 minute. Stir in tomatoes, cooked diced chicken, pine nuts, yogurt, tahini, pomegranate syrup and cilantro. Set aside to cool.

ROLL out puff pastry on a lightly floured surface. Each of the four squares of puff pastry should be rolled into a rectangle, about ¼" (5 mm) thick. Using a 4" (10 cm) round cookie cutter, cut out 8 rounds from each rectangle of pastry.

SPREAD a spoonful of chicken mixture on one half of each circle of pastry. Whisk together egg and water. Lightly brush the border with egg wash. Fold the pastry round in half and seal the edges using a fork. Repeat with remaining circles of pastry. Place on prepared baking sheets.

BAKE in preheated oven for 15-20 minutes or until golden brown.