Delicious & Convenient Recipes
Dinnertime is Mina Time™. Looking for Inspiration?
Find the perfect recipe for any occasion
Piri Piri Chicken Skewers with Carrot-Quinoa Salad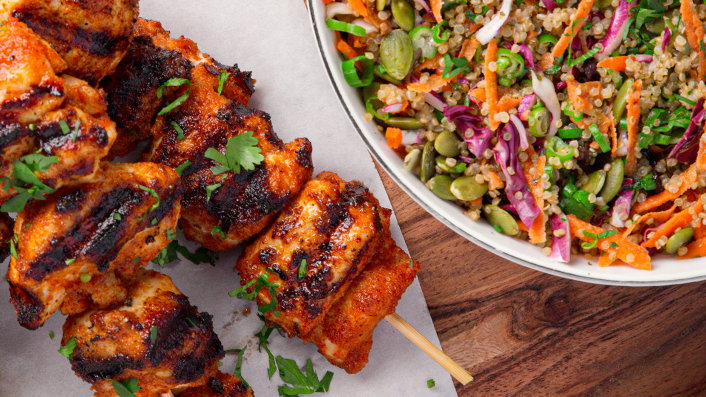 Prep Time:

15 min

Total Time:

45 min

Servings:

3
DIRECTIONS
Preheat BBQ to 450 F 
In a medium bowl, add chicken pieces, oil, Piri Piri and garlic.  Mix to coat the chicken and let sit for 30 minutes to 1 hour to marinate.
Prep your salad ingredients – cook the quinoa, grate the carrot, chop the scallions & coriander, shred radicchio and toast the pumpkin seeds. Measure out your raisins. When complete, set to the side. 
In a small blender or food processor, add all the dressing ingredients and blend until smooth.  If mixture is too thick add a bit more warm water 1 tablespoon at a time.  Dressing should be thick, but pourable.  This can be made up to 2 days before use and stored in an air tight container in the fridge.
Combine all the prepped salad ingredients in a large bowl, add all of the dressing and mix to combine.  Adjust seasoning to taste with salt and pepper as needed.
Divide the chicken evenly across the skewers.
Grill the skewers on the bbq for about 15 minutes, turning 3 times cooking for approx. 5 minutes a side.  Cook until the internal temperature of the biggest piece of chicken registers 165 F on a meat thermometer. 
Let skewers rest for 5 minutes before serving.  Drizzle with a bit of olive oil, and a squeeze of fresh lemon juice (optional).
Ingredients
For Skewers 

1 lb Mina boneless, skinless, chicken breasts cut into 1" pieces

1 Tablespoon Piri Piri spice

2 Tablespoons olive oil

1 clove garlic, finely grated

3 6" bamboo skewers

For Salad

2 cups of cooked quinoa

1 cup carrot, grated

3 scallions, finely sliced

¼ cup coriander, roughly chopped

¼ cup golden raisins

½ cup shredded radicchio

¼ cup pumpkin seeds, toasted

For Dressing

¼ cup tahini

1/2" piece of ginger, roughly chopped

1 small clove garlic, roughly chopped

1 teaspoon sesame oil

1 teaspoon fish sauce

3 Tablespoons lemon juice

¼ cup warm water

½ teaspoon salt