Delicious & Convenient Recipes
Dinnertime is Mina Time™. Looking for Inspiration?
Find the perfect recipe for any occasion
Moroccan Style Chicken Phyllo Parcels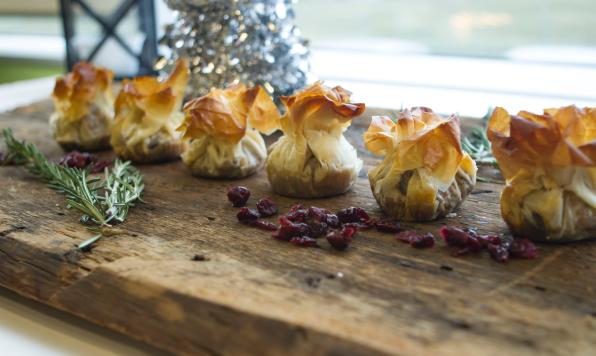 Prep Time:

10

Total Time:

30
Impress this holiday season with these tasty parcels that look gorgeous and dazzle taste buds. This flavorful and effortless dish will have your family and friends thinking you have slaved all day.
DIRECTIONS
Heat olive oil in a large skillet over medium high heat. Add ground chicken breaking apart with a wooden spoon. Cook until browned, about 7 to 8 minutes. Add onion, garlic, and ginger, cinnamon and cumin. Cook until onion start to softened and mixture is fragrant, about 4 to 5 minutes. Stir in tomato paste, stirring frequently for another 2 minutes. Pour in tomato puree and cranberries continue to cook until most of the moisture has evaporated. Mixture should appear dry. Season to taste with salt and pepper. Sprinkle mint and parsley in to mixture and stir to combine. Allow mixture to cool.

Preheat oven to 400 degrees. Cut the phyllo sheets in half and then cut each half in half. Using four sheets at a time, lightly brush butter onto each while overlapping the sheets. Gently press into a muffin tin. Place 2 heaping tbsp of the mixture into the center. Pull the phyllo corners up and tightly cinch using your fingers. Repeat with remaining phyllo and fillings. Carefully brush the tops of the phyllo with remaining butter or spray with cooking oil.

Bake for 15 to 20 minutes or until golden brown. If tops are browning to quickly cover with foil. Meanwhile stir together yogurt, chili powder and lime.
Ingredients
2 tbsp olive oil

1 lbs of Mina Halal Lean Ground Chicken

1 onion finely diced

1 tbsp garlic, minced

1 ginger, minced

1/2 tbsp of cinnamon

1 tsp of cumin

2 tbsp of tomato paste

1/2 cup of tomato puree

1 cup dried cranberry, roughly chopped

3 tbsp mint, chopped

1/3 cup parsley, chopped

Salt Pepper

12 sheets of phyllo dough

3/4 cup of melted butter

1 cup plain greek style yogurt

2 tbsp chili powder

Juice of 1 lime