Delicious & Convenient Recipes
Dinnertime is Mina Time™. Looking for Inspiration?
Find the perfect recipe for any occasion
Moroccan Chicken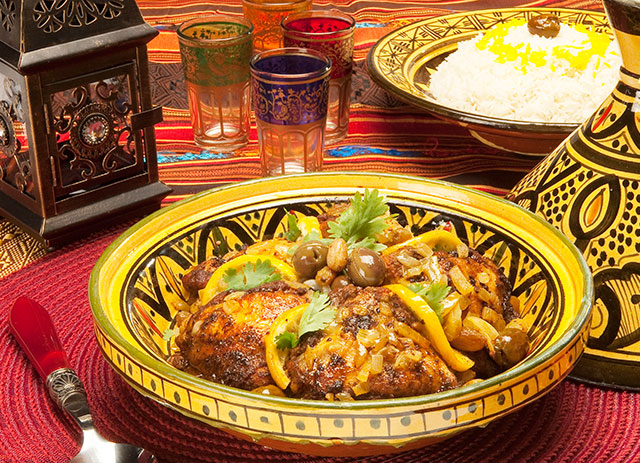 Prep Time:

10 min (not including marinating time)

Total Time:

45 min (not including marinating time)

Servings:

6
Bring a taste of Morocco home and feast your senses! Aromatic, juicy and flavourful.
Ingredients
1 tsp (5 mL) Ginger paste or freshly grated ginger
2 tsp (10 mL) Paprika
1 tsp (5 mL) Ground cumin
1 tsp (5 mL) Turmeric
1 tsp (5 mL) Pepper
1 tsp (5 mL) Cinnamon
¼ tsp (2 mL) Salt
1 Package Mina™ Chicken Thighs
2 tbsp (30 mL) Vegetable oil
1 Onion, chopped
3 Cloves garlic minced
1 Lemon, thinly sliced, seeded
1 cup (250 mL) Green olives
½ cup (125 mL) Raisins
¾ cup (175 mL) Water
1 tbsp (15 mL) Chopped fresh cilantro
1 tbsp (15 mL) Chopped fresh parsley
DIRECTIONS
COMBINE the first seven ingredients in a small bowl. Place chicken in a shallow pan and rub liberally with spice mixture. Place in the refrigerator for at least 2 hours.

HEAT oil in a pan or Dutch oven over medium- high. Sear chicken, skin side down for 3-4 minutes. Turn pieces over and sear 3-4 more minutes or until crisp and brown. Reduce heat to low. Add onions and garlic and cook until soft and fragrant.

ADD lemon slices, olives, raisins and water. Cover and simmer 25 minutes or until the chicken is tender and the internal temperature reaches 185˚F (85˚C). Garnish with chopped cilantro and parsley.