Delicious & Convenient Recipes
Dinnertime is Mina Time™. Looking for Inspiration?
Find the perfect recipe for any occasion
Mina Deluxe CCLT Breakfast Grill® Chicken Strips Lettuce Tomato Sandwich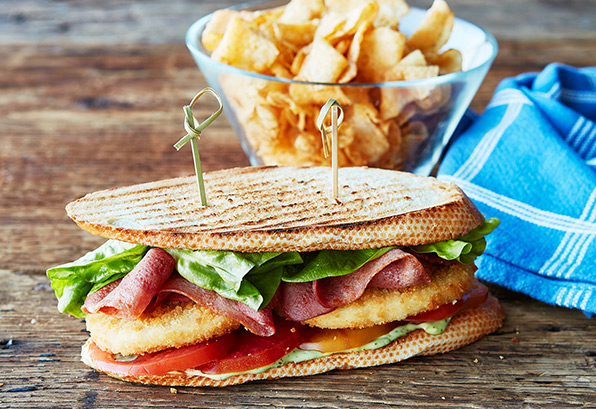 Prep Time:

5 min

Total Time:

30 min

Servings:

3
DIRECTIONS
PREPARE chicken burgers per package directions. Meanwhile prepare chicken strips per package directions and set aside to keep warm.

ASSEMBLE sandwich by dividing mayo onto base of each slice of bread.

ARRANGE tomatoes onto bread followed by chicken burger, chicken strips, lettuce and remaining slice of bread. Cut in half and enjoy.

Tip:

SERVE with BBQ kettle chips.
Ingredients
1 552 gr box Mina Chicken Burgers

9 slices Mina Breakfast Grill® Chicken strips

6 slices country loaf bread, sliced on the bias and toasted

½ cup (125 ml) prepared basil mayonnaise

9 slices tomato

Loose spring mix lettuce