Delicious & Convenient Recipes
Dinnertime is Mina Time™. Looking for Inspiration?
Find the perfect recipe for any occasion
Maraq Somali Chicken Stew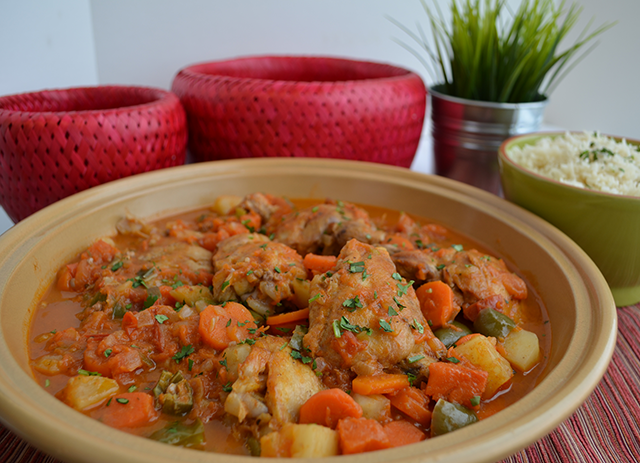 Prep Time:

15 min

Total Time:

45 min

Servings:

8
Maraq is a stew eaten daily throughout Somalia. A common kitchen sound is the grinding of cumin and garlic with a mortar and pestle. The stew is usually made with beef or camel. In this version of the recipe we've lightened things up by substituting chicken and what a pleasant surprise!
Ingredients
2 tbsp (30 mL) Vegetable oil, divided
2 Packages Mina™ Chicken Thighs, skin removed
1 Onion, diced
3 Cloves garlic, minced
1/3 cup (80 mL) Tomato paste
2 tbsp (30 mL) Ground cumin
Pinch cayenne
2 Tomatoes, chopped
1 cup (250 mL) Butternut squash , peeled, cut into bite-size cubes
5-6 Okra, sliced
3 Carrots, sliced
2 cups (500 mL) Chicken broth, divided
1 Large potato, peeled, chopped
1 Green pepper, chopped
Salt and pepper
1/3 cup (80 mL) Chopped fresh cilantro
DIRECTIONS


HEAT 1 tbsp (15 mL) oil in a large heavy saucepan or Dutch oven over medium-high. Add chicken and cook 1-2 minutes per side or until brown. Remove chicken from pan, reduce heat to medium and add remaining oil. Sauté onion and garlic for 3-5 minutes. Add tomato paste, cumin and cayenne. Cook an additional 1-2 minutes.

ADD tomatoes and cook over medium-high for 10 minutes, stirring occasionally. Add squash, okra, carrots and 1 cup (250 mL) chicken broth. Stir in potatoes and peppers. Season with salt and pepper. Place chicken back in the pan and add remaining broth until chicken is almost covered.

REDUCE heat to low and simmer for 30 minutes or until chicken and vegetables are very tender and internal temperature reaches 185 ̊F (85 ̊C). Stir in cilantro before serving.