Delicious & Convenient Recipes
Dinnertime is Mina Time™. Looking for Inspiration?
Find the perfect recipe for any occasion
Maqluba-Upside Down Chicken and Rice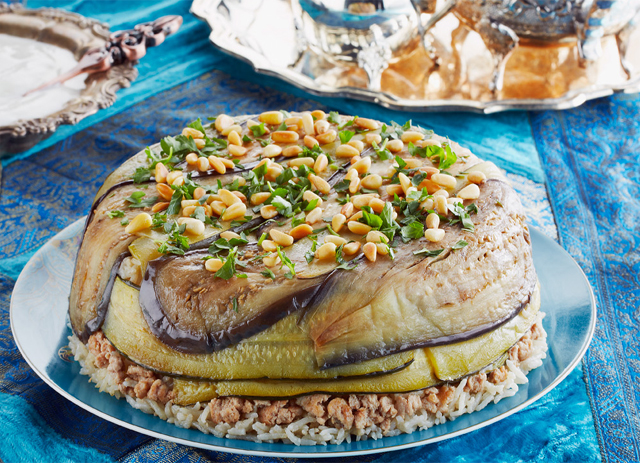 Prep Time:

45 min

Total Time:

1 hr 45 min

Servings:

6
Delight your senses and let your taste buds travel with this Arab inspired recipe.
DIRECTIONS
SOAK rice in water for 30 minutes or until ready to use.

CUT eggplant and zucchini lengthwise into ¼ inch (5 mm) thick strips. Heat 1 tbsp (15 mL) olive oil in a large skillet over medium-high heat. Working in batches, sauté until tender, about 1-2 minutes per side and set aside.

HEAT 1 tbsp (15 mL) olive oil in the same pan and add onion and garlic. Sauté for 2-4 minutes or until tender. Add chicken and spices and cook for 8-10 minutes, breaking up the meat with the back of a wooden spoon until golden brown.

DRAIN rice and set aside.

GREASE a 16 cup (4 L) heavy bottomed pot with olive oil. Layer zucchini and eggplant alternately in the bottom of the pot and up the sides. Top eggplant and zucchini in bottom of pot with sliced tomatoes. Sprinkle ½ cup (125 mL) rice over the tomatoes followed by chicken mixture, chickpeas and any remaining eggplant or zucchini. Press to compact. Sprinkle in remaining rice and press down again. Pour in chicken stock and cover.

BRING the mixture to a boil, reduce heat and simmer on low for 45-50 minutes. If mixture gets too dry before the rice is finished cooking add additional chicken broth or water and simmer until absorbed and rice is cooked.

REMOVE from the heat and let rest, covered for 15 minutes.

REMOVE lid from the pot and place a large platter upside down over the pot. Carefully invert the mixture onto the platter and serve.

Tips: The mixture may not hold its shape completely but that's okay, simply patch it up before serving. It's delicious either way.

Serving Suggestion: Serve with plain yogurt on the side. Garnish with pine nuts and chopped parsley.
Ingredients
1 ½ cups (375 mL) Rice, divided
¼ cup (60 mL) Olive oil, divided
1 Large eggplant
1 Large zucchini
Salt and pepper
1 Onion, chopped
2 Cloves garlic, minced
1 lb (454 g) Mina™ Lean Ground Chicken
½ tsp (2 mL) Cinnamon
Pinch Nutmeg
1 tsp (5 mL) Allspice
1 tsp (5 mL) Garam masala
1 Large tomato, sliced
1 (19 oz/540 mL) Can chickpeas, drained
2 ½ cups (625 mL) Chicken broth