Delicious & Convenient Recipes
Dinnertime is Mina Time™. Looking for Inspiration?
Find the perfect recipe for any occasion
Maple Glazed Roast Chicken with Root Vegetables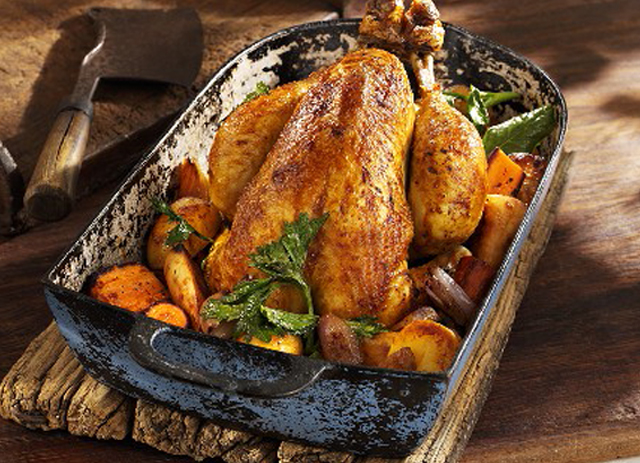 Prep Time:

20 min

Total Time:

1 hr 35 min

Servings:

4
A wonderful fall menu. Perfectly roasted chicken with a maple and butter glaze in a bed of roasted root vegetables with their natural earthy sweet taste.
DIRECTIONS
PREHEAT oven to 375˚F (190˚C).

BRUSH chicken with melted butter and maple syrup. Season liberally with salt and pepper all over. Place one quartered onion inside the cavity of the chicken along with 2 sprigs thyme and 2 sprigs rosemary.

PLACE the chicken in a roasting pan. Add 1 cup (250 mL) of water to the bottom of the pan and roast in preheated oven for 35 minutes. Remove chicken from the oven. Baste with pan juices and place vegetables in the roasting pan surrounding the chicken. Drizzle vegetables with olive oil. Season with salt and pepper. If the pan is dry add a little more water just to cover the bottom. Roast an additional 1 hour to 1 hour 15 minutes or until the internal temperature of the thickest part of the leg reads 185˚F (85˚C).

ALLOW chicken to rest for 10 minutes before carving.
Ingredients
1 Mina™ Whole Chicken
2 tbsp (30 mL) Melted butter
1 tbsp (15 mL) Maple syrup
Salt and pepper
3 Onions, peeled and quartered, divided
4 Sprigs Fresh Thyme, divided
4 Sprigs Fresh Rosemary, divided
2 Carrots, roughly chopped
3 Potatoes, peeled, quartered
2 Sweet potatoes, peeled, quartered