Delicious & Convenient Recipes
Dinnertime is Mina Time™. Looking for Inspiration?
Find the perfect recipe for any occasion
Maple Chicken with Pears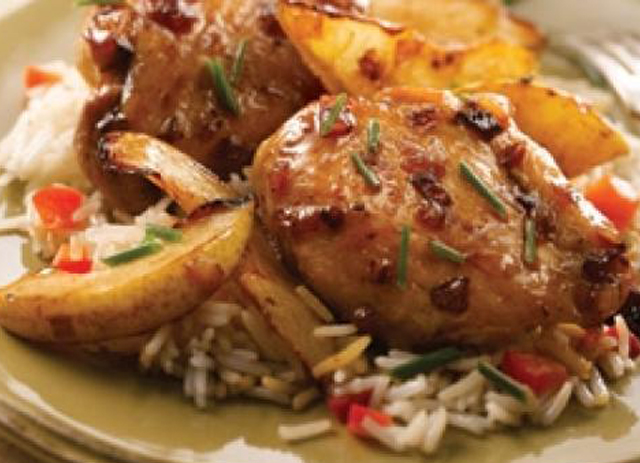 Prep Time:

10 min

Total Time:

20 min

Servings:

4
This elegant Maple Chicken and Pear recipe is an adventurous choice you family and friends will love! Try replacing the pears with crisp, tart apples that hold their shape.
DIRECTIONS
HEAT oil in a skillet over medium heat.

COOK chicken for 4-5 minutes per side. Add onions and continue to cook for an additional 4-5 minutes or until lightly browned.

ADD pear slices and continue cooking for 3 minutes until pears start to caramelize, stirring occasionally to brown evenly.

STIR in maple syrup and soy sauce. Bring to a boil, cover and reduce heat to simmer for 2-3 minutes or until chicken is fully cooked and the internal temperature reaches 170°F (77°C).

SPRINKLE with chives and serve immediately over rice.
Ingredients
8 Mina™ Chicken Thighs
15 ml Vegetable oil
1 Onion, diced
2 Firm pears, cored and thinly sliced
45 ml Pure maple syrup
15 ml Soy sauce
Chopped fresh chives
500 ml Cooked Rice