Delicious & Convenient Recipes
Dinnertime is Mina Time™. Looking for Inspiration?
Find the perfect recipe for any occasion
Lime Glazed Grilled Pineapple Chicken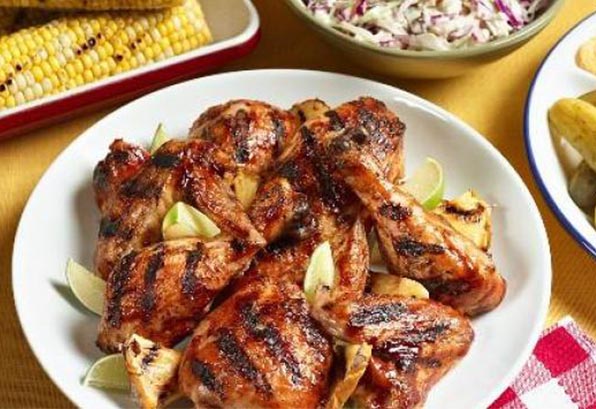 Prep Time:

25 min

Total Time:

45 min

Servings:

6
Get your taste buds ready. This sweet and sour sticky lime chicken is amazing. Char grilled to perfection with a side of barbecued caramelized pineapple.
Ingredients
1 tbsp (15 mL) Cumin

2 tsp (10 mL) Chili powder

1 ½ tsp (7 mL) Salt

3 lbs (1.5 kg) Mina Halal Chicken, (thighs, drumsticks and wings)

2 cups (500 mL) Pineapple juice

½ cup (125 mL) Honey

2 tbsp (30 mL) Cornstarch

2 tbsp (30 mL) Water

2 tbsp (30 mL) Lime zest

6 tbsp (90 mL) Fresh lime juice

1 tsp (5 mL) Crushed red chili flakes

6 Pineapple rings, fresh or canned

2 Limes, cut into wedges
DIRECTIONS
COMBINE cumin, chili powder, and salt in a bowl. Rub dry seasoning over chicken pieces. Set aside.

BRING pineapple juice and honey to a boil in a small saucepan. Reduce heat and simmer for 10-12 minutes or until slightly reduced.

COMBINE cornstarch and water in a small bowl. Whisk into pineapple-honey mixture, whisking constantly. Bring to a boil and cook for 2 minutes or until thickened. Remove from heat and stir in lime zest, lime juice and crushed red chili pepper.

BRUSH pineapple rings on both sides with pineapple-lime glaze and set aside.

PREHEAT BBQ to medium. Spray grill racks with non-stick cooking spray or a light coat of vegetable oil. Grill chicken pieces for 6-7 minutes per side, basting frequently with pineapple lime glaze. Cook to an internal temperature of 185°F (85°C).

GRILL pineapple rings until golden brown on each side, about 2-3 minutes.

ARRANGE pineapple slices on a large serving platter, top with chicken pieces and garnish with lime wedges.