Delicious & Convenient Recipes
Dinnertime is Mina Time™. Looking for Inspiration?
Find the perfect recipe for any occasion
Lebanese Grilled Chicken with Fattoush (Mixed Salad)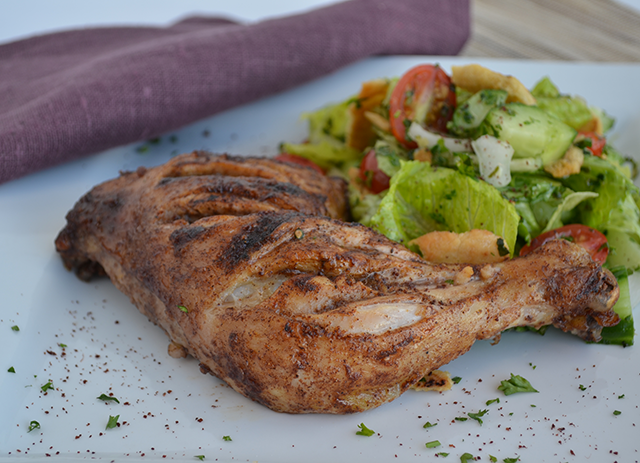 Prep Time:

20 min (not including marinating time)

Total Time:

45 min (not including marinating time)

Servings:

4
Mina Halal chicken quarters are marinated in a mixture of highly aromatic spices then char grilled to perfection offering maximum flavour. Served with fresh and crisp Fattoush salad it's a perfect meal for the whole family.
Ingredients
LEBANESE GRILLED CHICKEN:

1 Package Mina™ Chicken Leg Quarters
4 Cloves garlic, minced
½ tsp (2 mL) Salt
½ cup (125 mL) Lemon juice
2 tbsp (30 mL) Olive oil
2 tsp (10 mL) Cinnamon
1 tsp (5 mL) Hot paprika
½ tsp (2 mL) Black pepper
Pinch cayenne

FATTOUSH:

1 English cucumber, chopped
½ Sweet onion, chopped
1 cup (250 mL) Halved cherry tomatoes
1 Head Romaine lettuce, torn into bite-size pieces
¾ cup (175 mL) Chopped fresh parsley
¾ cup (175 mL) Chopped fresh mint
1 Pita, toasted, broken into bite-size pieces
3 Cloves garlic, minced
Salt and pepper
2 tbsp (30 mL) Lemon juice
½ cup (125 mL) Olive oil
Sumac powder
DIRECTIONS
MAKE small slits in the flesh of each chicken leg. Place in a large re-sealable plastic bag. Whisk together garlic, salt, lemon juice, olive oil, cinnamon, hot paprika, pepper and cayenne. Pour mixture over chicken. Seal the bag and gently massage the marinade into the chicken making sure to rub it into all of the slits. Refrigerate for 1 hour or up to overnight.

PREHEAT BBQ to medium-high.

GRILL chicken over direct heat, turning occasionally until golden brown and crispy, about 5 minutes per side. Turn off 1 burner. Place chicken over this burner, (indirect heat) and continue cooking for about 20 minutes or until chicken is cooked through and the internal temperature reaches 185˚F (85˚C).

TOSS together cucumber, onion, tomatoes, lettuce, herbs and toasted pita in a large salad bowl. Whisk together remaining ingredients and drizzle over salad just before serving. Sprinkle with a few pinches of sumac.