Delicious & Convenient Recipes
Dinnertime is Mina Time™. Looking for Inspiration?
Find the perfect recipe for any occasion
Kati Chicken Roll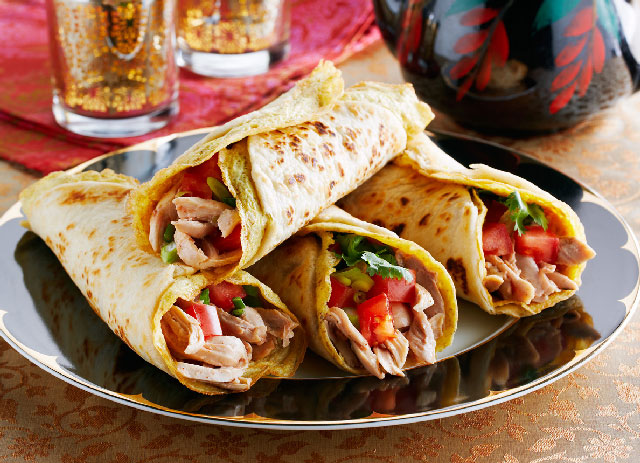 Prep Time:

15 min (not including marinating time)

Total Time:

1 hr 30 min (not including marinating time)

Servings:

4
Kati chicken rolls with chicken, yogurt and Indian spices make this dish one of the most delicious Ramadan snacks.
DIRECTIONS
SCORE each chicken leg in several places using a sharp knife. Place in a large re-sealable plastic bag. Whisk together yogurt, 1 tbsp (15 mL) garam masala, ¼ cup (60 mL) coriander and curry paste in a small bowl. Pour marinade over the chicken and massage to coat. Refrigerate for 1 hour or up to overnight.

PREHEAT oven to 350˚F (180˚C).

PLACE chicken pieces along with the marinade in a 9 X 13" (3.5 L) baking dish. Cover with foil and bake in preheated oven for 45 minutes to 1 hour or until the internal temperature of the chicken reaches 185˚F (85˚C). Remove from oven and set aside to cool enough to handle. Once cooled, remove meat from the bones, discard bones and shred meat. Place the meat back into the cooking liquid and keep warm in the oven until ready to use.

BEAT eggs and cayenne together in a large bowl. Heat ½ tsp (2 mL) of ghee in a non-stick skillet over medium-low heat. Pour in a quarter of the egg mixture and swirl the skillet to coat. Season the omelet with salt and garam masala. Once the egg has set on the bottom but is still runny on top, place a paratha directly on top and gently press it onto the omelet. It will stick. Cook for 1 minute and turn over. Cook for an additional 1-2 minutes or until golden and softened. Repeat with remaining parathas and eggs.

ASSEMBLE Kati rolls by dividing the chicken mixture between the parathas. Use tongs so that the chicken drains slightly. Top with green onions, tomatoes, mint chutney and remaining coriander.  Roll up and serve. Secure with a toothpick if required.
Ingredients
4 Mina™ Chicken Leg Quarters, skin removed
1 cup (250 mL) Plain yogurt
1-2 tbsp (15-30 mL) Garam masala, divided
1/3 cup (80 mL) Chopped fresh coriander, divided
3 tbsp (45 mL) Tandoori curry paste
4 Eggs
Pinch cayenne
Kosher salt
2 tsp (10 mL) Ghee or vegetable oil, divided
4 Parathas or chapatis
3 Green onions, chopped
1 Large tomato, diced
Prepared mint chutney