Delicious & Convenient Recipes
Dinnertime is Mina Time™. Looking for Inspiration?
Find the perfect recipe for any occasion
Jerk Spiced Root Beer Can Chicken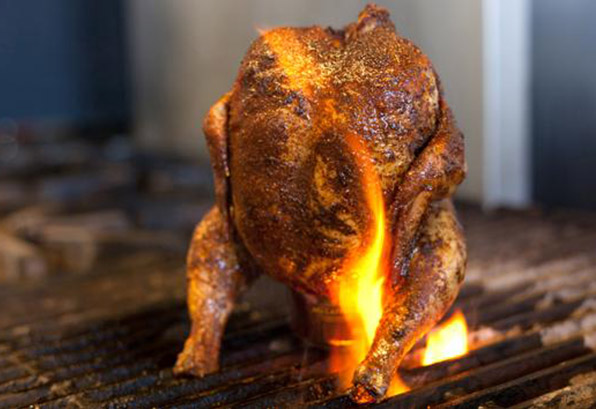 Prep Time:

10 min

Total Time:

1hr 40 min

Servings:

4
Grilled jerk spiced chicken slowly infused with root beer. It's superb flavour is mouth-watering goodness!
DIRECTIONS
MIX all of the spices together in a small bowl. Rub all over the chicken to coat. Refrigerate for at least 30 minutes or up to overnight.

PREHEAT BBQ to high. After preheating, turn off one burner in order to grill over indirect heat. You want heat on either side of the grill space that you are cooking on.

OPEN the can of root beer and "dispose" of one-third of it. Insert the can into the cavity of the chicken. Balance the chicken on the can and two legs in a shallow pan. Place the pan directly over the burner of the barbecue that has been turned off. Close the lid and roast for 1 ¼ to 1 ½ hours or until the skin is crisp and the internal temperature reaches 185°F (85°C). Remove the chicken from the grill and let rest for 10 minutes prior to carving

Tip:

Substitute ginger beer for root beer.
Ingredients
2 tbsp (30 mL) Brown sugar

1 tsp (5 mL) Salt

2 tsp (10 mL) Allspice

1 tsp (5 mL) Cayenne

1 tsp (5 mL) Freshly ground black pepper

1 tsp (5 mL) Onion powder

1/2 tsp (2.5 mL) Cinnamon

1/2 tsp (2.5 mL) Garlic powder

1/2 tsp (2.5 mL) Dried thyme

1 tbsp (15 mL) Paprika

1 Mina Halal®  Whole Chicken

1 can (398 mL) Root beer