Delicious & Convenient Recipes
Dinnertime is Mina Time™. Looking for Inspiration?
Find the perfect recipe for any occasion
Jerk Chicken Nachos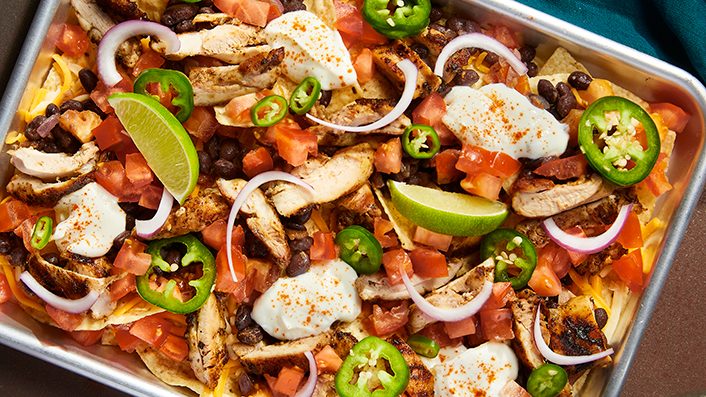 Prep Time:

15 min

Total Time:

45 min

Servings:

4 to 6
DIRECTIONS
In a medium bowl add the chicken thighs with the jerk rub, 1
Tablespoon of olive oil and 1 teaspoon of salt.  Let marinate for 20 minutes at room temperature.
Preheat grill to 400.
Grill the chicken thighs until internal temperature of 165F is reached on a meat thermometer, approx. 15 minutes.  Let cool and roughly chop.
In a cast iron skillet on medium heat add 1 Tablespoon of olive oil and the onion and cook for 2 to 3 minutes until soft.  Stir in garlic and cook for another 30 seconds.  
Add the pinto beans and continue to cook for a few minutes until the beans have dried out.  Stir in tomatoes and remove from heat.  Season with 1 teaspoon of salt and fresh pepper, reserve.
In a small bowl whisk together sour cream, lime juice and ½ teaspoon of salt, reserve.
To assemble the nachos:
Turn broiler to high.
On a large baking sheet spread out the corn chips evenly.
Spoon over half of the of the bean mixture, then scatter over the chicken, followed by the other half of the beans.
Top with cheese and broil until the cheese has melted.  
Remove from the oven and top with avocado, lime sour cream, coriander and crispy jalapenos.
Ingredients
1 lb Mina boneless, skinless chicken thighs

1 Tablespoon Jerk rub

21/2 teaspoon kosher salt, divided

2 Tablespoon olive oil, divided

1 560g bag corn tortilla chips

2 cups shredded cheese, such as Monteray Jack or cheddar

1 19oz can pinto beans, drained and rinsed

1 onion, finely diced

1 clove garlic, finely chopped

1 lg avocado, diced

½ cup sour cream

Juice of 1 lime

¾ cup tomato, finely chopped

½ cup coriander, roughly chopped

Crispy jalapenos, optional