Delicious & Convenient Recipes
Dinnertime is Mina Time™. Looking for Inspiration?
Find the perfect recipe for any occasion
Honey Mustard Lemon Chicken with Couscous Pilaf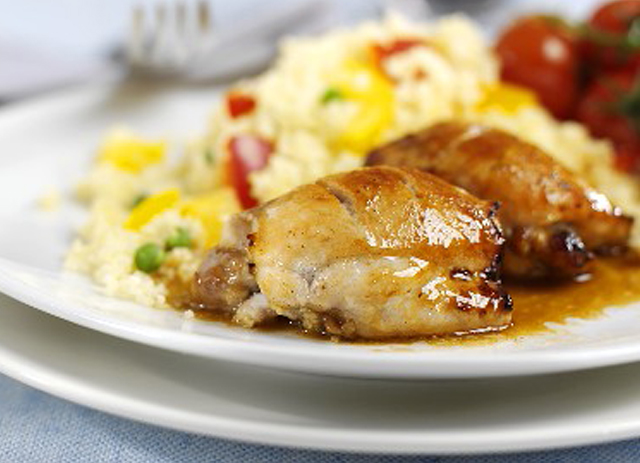 Prep Time:

15 min

Total Time:

1 hr 0 min

Servings:

3-4
Easy and tasty oven baked, honey mustard lemon chicken thighs are packed with sweet-spicy citrus flavour. Serve over veggie packed couscous pilaf to soak up all the yummy juices.
DIRECTIONS
CHICKEN:
WHISK the juice from one lemon with honey, garlic, Dijon and salt and pepper. Pour into a large re-sealable plastic bag. Add chicken and place in refrigerator for at least 30 minutes.

PREHEAT oven to 350°F (180°C).

PLACE marinated chicken in a shallow baking dish. Cut remaining lemon into wedges and add to chicken. Bake in preheated oven for 35-45 minutes until golden brown and internal temperature reaches 185°F (85°C). Season with salt and pepper and serve over couscous along with juices.

COUSCOUS PILAF:
COOK couscous according to package directions. Set aside.

HEAT oil over medium heat. Add onion and garlic. Sauté until soft. Add peppers, corn and peas. Remove from the heat and add parsley, apricots and almonds. Toss together with couscous. Season with salt and pepper.
Ingredients
CHICKEN:
6 Mina™ Chicken Thighs
2 Lemons, divided
1/4 cup (60 mL) Honey
2 Cloves garlic, minced
1 tbsp (15 mL) Hot Dijon
Salt and pepper

COUSCOUS:
1 cup (250 mL) Couscous
1 tbsp (15 mL) Vegetable oil
1/2 cup (125 mL) Onion, diced
2 Cloves garlic, minced
1/2 Red pepper, diced
1/2  Yellow pepper, diced
1 cup (250 mL) Frozen corn
1 cup (250 mL) Frozen peas
1/3 cup (75 mL) Diced dried apricots
1/3 cup (75 mL) Toasted slivered almonds
1/4 cup (60 mL) Freshly chopped parsley
Salt and pepper