Delicious & Convenient Recipes
Dinnertime is Mina Time™. Looking for Inspiration?
Find the perfect recipe for any occasion
Gourmet Make Your Own Burger Station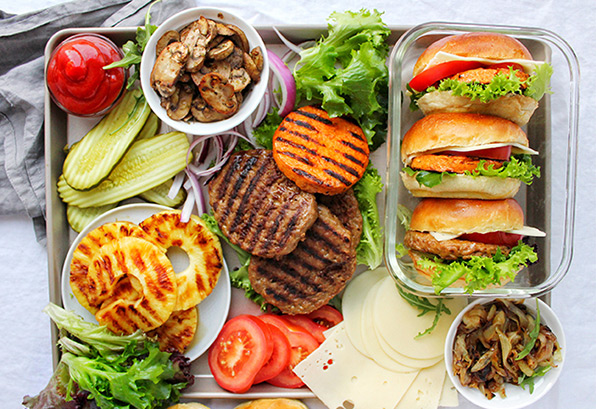 Prep Time:

15 min

Total Time:

30 min

Servings:

1 burger per person
Whether you're firing up the BBQ or cooking these burgers on the stove top, there's always an excuse to invite your friends and family over for this gourmet burger station! With everyone's favourite toppings prepared, it's the easiest way to please a crowd!
DIRECTIONS
START by cooking the Mina Halal burgers per package instructions, either on the BBQ or on the stove top.

CUT the pineapple into slices and grill for 2 minutes each side on high heat.

SLICE the onion into thin slices and cook on medium low heat with the vegetable oil. It will take approximately 15-20 mins for onions to develop a golden caramelization.

SLICE the mushrooms and sautee with the minced garlic for 5-7 minutes until cooked. Add the dry herbs and mix.

WASH and slice the lettuce and tomato.

LAY all components on a large sheet pan and serve.
Ingredients
2 Onions

3 tbsp (45 mL) vegetable oil

Burger buns (1 per person)

Mina Halal Jalapeno Beef Burgers

Mina Halal Tandoori Chicken Burger

1 Cored and peeled pineapple

3 Cups (750 mL) sliced mushrooms

2 Garlic cloves

3 tsp (15 mL) dried herbs (Oregano and Basil)

Cheese slices (per preference)

Lettuce

Tomato

Pickles

Ketchup and condiments