Delicious & Convenient Recipes
Dinnertime is Mina Time™. Looking for Inspiration?
Find the perfect recipe for any occasion
Cilantro and Lime grilled chicken thighs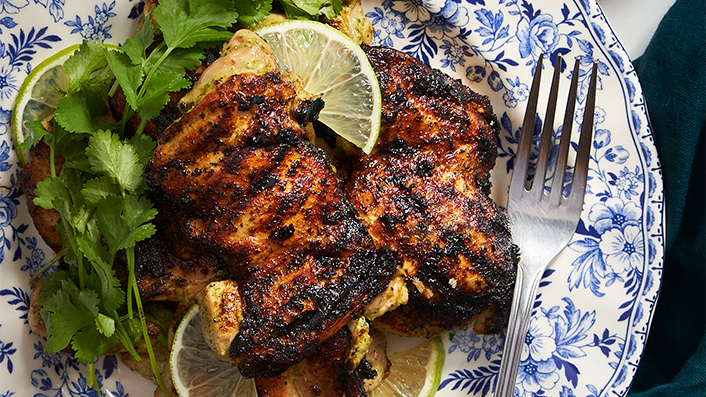 Prep Time:

10 min

Total Time:

20 min (marinate for 8 to 24 hours)

Servings:

4
DIRECTIONS
In a large bowl combine all the ingredients and mix thoroughly so that the chicken thighs are evenly coated. Cover with plastic wrap and let marinate for 8 to 24 hours in the fridge.

Take the chicken out of the fridge 1 hour before cooking to allow the chicken to come to room temperature.

Preheat grill to 400 F

Grill the chicken thighs for approx. 8 minutes a side. Chicken is done when it registers 170 F on a meat thermometer.

Garnish with lime wedges and more cilantro if desired.
Ingredients
2 lbs Mina boneless, skinless chicken thighs

¼ cup cilantro, roughly chopped

3 T olive oil

2 T lime juice, and the zest of one lime

1 t chipotle powder

1 t cumin

1 t kosher salt

1 garlic clove, finely grated