Delicious & Convenient Recipes
Dinnertime is Mina Time™. Looking for Inspiration?
Find the perfect recipe for any occasion
Chicken Wat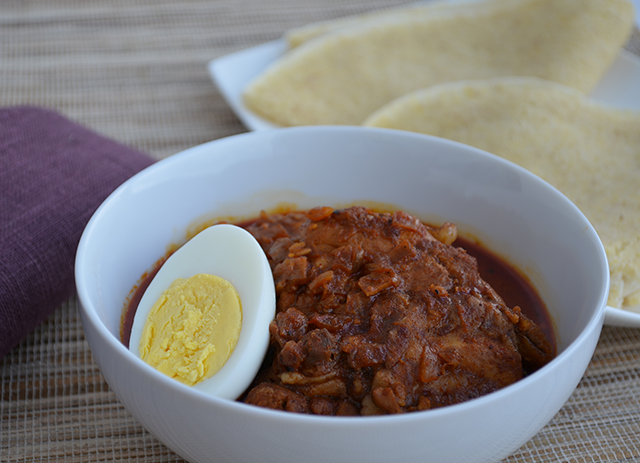 Prep Time:

20 min (not including marinating time)

Total Time:

1 hr (not including resting time)

Servings:

4
Ethiopia is famous for its spicy stews called wats. This stew of chicken and hard boiled eggs is one of the most recognized. An easy and impressive dish to make at home. Soak up the delicious broth with the recipe attached for homemade Injera flatbread.
DIRECTIONS
BEREBERE SPICE BLEND:

PREHEAT oven to 350˚F (180˚C).

COMBINE all spices in a pie plate and mix well. Roast in preheated oven for 20 minutes, stirring every 5 minutes. Remove from oven and set aside to cool.

MEASURE 2 tbsp (30 mL) required for recipe and store remaining spice blend in a tight fitting container in a cool, dark area for future use.

CHICKEN WAT:

SEASON chicken with lemon juice and salt.

HEAT oil in a large pan over medium-low heat. Cook onions until deeply caramelized, about 15-20 minutes. Add garlic, ginger, fenugreek, cardamom, and nutmeg. Stir well and add berbere spice blend and paprika. Cook for 2-3 minutes over low heat, stirring.

POUR in water. Bring to a boil and reduce heat to low. Place chicken pieces into sauce and simmer for 30-35 minutes, turning once or twice. Cook until internal temperature of chicken has reached 185˚F (85˚C). If sauce starts to dry out add a little water to bring back to a saucy consistency.

MAKE shallow slits in the eggs. Add to the pan and simmer with chicken for 10 minutes.

INJERA (Ethiopian Flatbread):

COMBINE all dry ingredients in a large bowl. Mix together yeast and water. Pour into flour mixture and stir just to combine. Cover with plastic wrap and allow to rest for 1 hour or until dough has doubled in size and becomes stretchy. (The dough can be left to rest for up to 6 hours).

STIR the dough if liquid has settled on the bottom of the bowl. Place 2 cups (500 mL) of the dough in the bowl of a food processor. Using the flat blade and with the machine running, thin the dough with ½ cup (125 mL) to ¾ (175 mL) cup of water. The mixture should be quite thin, resembling the consistency of unwhipped whipping cream. Repeat process with remaining dough.

PLACE a 12 inch (30 cm) non-stick skillet over medium-high heat. Pour in ½ cup (125 mL) of the batter and gently swirl the pan to coat. The flatbread should be no thicker than 1/8 inch (3 mm). Do not turn the Injera during cooking. They will not stick and do not burn easily. It will be fully cooked when tiny bubbles appear all over the bread, about 3 minutes. Remove from pan, cover to keep warm and repeat process until all batter has been used.
Ingredients
BEREBERE SPICE BLEND:

(note quick version of spice blend under tips below)

¼ cup (60 mL) Cayenne
1/3 cup (80 mL) Paprika
1 tsp (5 mL) Salt
1 tsp (5 mL) Poultry seasoning
½ tsp (2 mL) Ground ginger
½ tsp (2 mL) Garlic powder
½ tsp (2 mL) Ground cardamom
½ tsp (2 mL) Fenugreek, crushed
¼ tsp (1 mL) Nutmeg
1/8 tsp (.5 mL) Cinnamon
1/8 tsp (.5 mL) Ground cloves
1/8 tsp (.5 mL) Ground allspice

CHICKEN WAT:

1 Package Mina™ Chicken Thighs, skin removed
2 tbsp (30 mL) Lemon juice
½ tsp (2 mL) Salt
2 tbsp (30 mL) Vegetable oil
1 cup (250 mL) Finely chopped onion
1 tbsp (15 mL) Garlic, minced
1 tsp (5 mL) Freshly grated ginger root or ½ tsp (2 mL) ground ginger
¼ tsp (1 mL) Fenugreek, crushed
¼ tsp (1 mL) Ground cardamom
1/8 tsp (.5 mL) Ground nutmeg
2 tbsp (30 mL) Berbere spice blend
2 tbsp (30 mL) Paprika
1 cup (250 mL) Water
4 Eggs, hardboiled and peeled

INJERA (Ethiopian Flatbread):

3 cups (750 mL) All-purpose flour
½ cup (125 mL) Whole wheat flour
½ cup (125 mL) Corn meal or Masa harina
1 ½ tsp (7 mL) Salt
3 ½ tsp (17 mL) Baking powder
1 tbsp (15 mL) Active dry yeast
3 ½ cups (875 mL) Warm water