Delicious & Convenient Recipes
Dinnertime is Mina Time™. Looking for Inspiration?
Find the perfect recipe for any occasion
Chicken Tunis Tajin with Eggs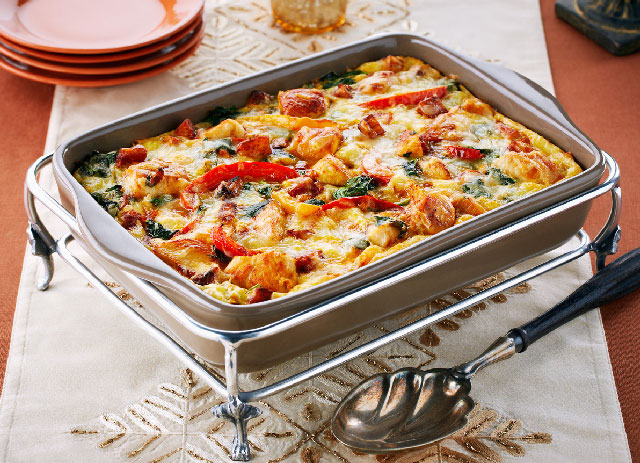 Prep Time:

15 min

Total Time:

1 hr 15 min

Servings:

10-12
Packed with nutrition and taste for the whole family, Tunisan Tajin is a fabulous Ramadan recipe.
DIRECTIONS
PREHEAT oven to 375˚F (190˚C). Grease a 9" X 13" (3.5 L) rectangle baking pan with non-stick cooking spray or olive oil.

HEAT 1 tbsp (15 mL) oil in a large skillet over medium-high heat. Add chicken and cook for 7-9 minutes or until golden brown. Remove from pan and set aside.

HEAT remaining oil in the same pan over medium heat. Add potatoes and cook for 8-9 minutes. Increase heat to medium-high. Add onions and peppers. Sauté for 2-3 minutes or until potatoes are fork tender. Add harissa, Ras el Hanout and tomato paste. Season with salt and pepper. Cook, stirring for 1-2 minutes. Stir in spinach and add water. Cook 3-5 minutes or until most of the liquid has evaporated. Return chicken to the pan and stir to combine. Set aside to cool.

BEAT eggs in a large bowl. Stir in chicken and vegetable mixture along with Parmesan cheese.

POUR mixture into prepared baking dish. Top with Cheddar cheese and bake in preheated oven for 20-22 minutes or until set.

CUT tajin and serve warm.
Ingredients
¼ cup (60 mL) Olive oil, divided
2 Mina™ Boneless, Skinless Chicken Breasts, cut into ½ inch (1 cm) cubes
2 Potatoes, diced
1 Onion, diced
1 Yellow pepper, thinly sliced
1 Red pepper, thinly sliced
1 tbsp (15 mL) Harissa
2 tbsp (30 mL) Ras el Hanout
2 tbsp (30 mL) Tomato paste
1 Bunch spinach, coarsely chopped
½ cup (125 mL) Water
10 Eggs
1/3 cup (80 mL) Freshly grated Parmesan cheese
½ cup (125 mL) Grated white Cheddar cheese
Salt and pepper