Delicious & Convenient Recipes
Dinnertime is Mina Time™. Looking for Inspiration?
Find the perfect recipe for any occasion
Chicken Tikka-Biryani with Indian Spiced Basmati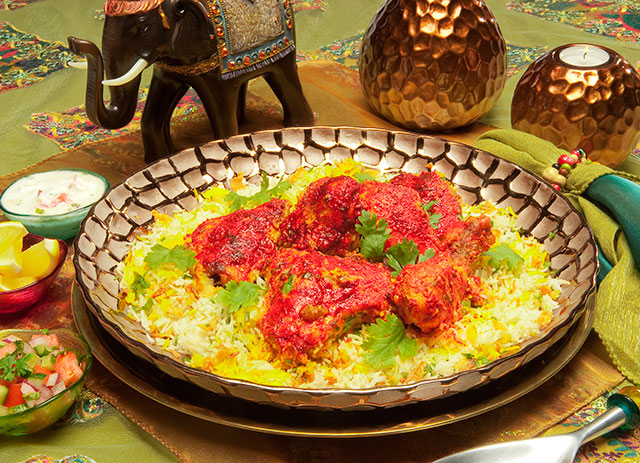 Prep Time:

20 min (not including marinating time)

Total Time:

1 hr 30 min (not including marinating time)

Servings:

4
A delicious combo of the classic Indian Tikka and Biryani come together in this creative Indian inspired dish.
DIRECTIONS
CHICKEN TIKKA:

Combine ingredients for the chicken tikka, apart from the chicken, in a small bowl. Using a sharp knife, make small slits in the chicken and rub mixture all over and into the slits. Place into a large re-sealable plastic bag and refrigerate overnight.

BIRYANI SAUCE:

HEAT oil in a large skillet or a Dutch oven over medium-high. Add onion, turmeric, chili-garlic paste, chili powder, ground coriander, cloves, cinnamon, peppercorns, black cardamom, salt, green chilies, tomatoes and prunes. Cook 4-5 minutes or until softened. Remove chicken from marinade and add to the pan. Discard any marinade remaining in the bag. Add enough chicken stock to almost cover the chicken. Simmer, covered over low heat 30-40 minutes or until the internal temperature of the chicken has reached 185˚F (85˚C).

STIR in yogurt, lemon juice, cilantro and mint.

INDIAN SPICED BASMATI:

HEAT butter in a medium saucepan over medium. Add spices and cook 1-2 minutes or until fragrant. Add rice and stir to coat. Pour in chicken broth. Season with salt. Bring to a boil. Cover and reduce heat to low. Simmer 13 minutes or until all liquid is absorbed. Remove from heat and allow rice to sit for 5 minutes. Fluff with a fork.

SERVE chicken and sauce over rice. Garnish with crispy fried onions, a drizzle of lemon juice and fresh cilantro leaves.
Ingredients
CHICKEN TIKKA:

¾ cup (175 mL) Plain yogurt
3 tbsp (45 mL) Lemon juice
2 tbsp (30 mL) Ginger-garlic paste
1 tbsp (15 mL) Tikka masala
2 tbsp (30 mL) vegetable oil
Pinch Saffron
4 Mina™ Chicken Leg Quarters, cut into eight pieces

BIRYANI SAUCE:

2 tbsp (30 mL) Vegetable oil
1 Onion, diced
½ tsp (2 mL) Turmeric
1 tsp (5 mL) Ginger-garlic paste
1 tsp (5 mL) Chili powder
1 tsp (5 mL) Ground coriander
4 Cloves
1 Cinnamon stick
6 Black peppercorns
1 Black cardamom pod
Pinch salt
6 Green chili peppers, minced
4 Tomatoes, diced
6-8 Dried prunes, soaked, chopped
1 cup (250 mL) Chicken stock
½ cup (125 mL) Plain yogurt
2 tbsp (30 mL) Freshly squeezed lemon juice
¼ cup (60 mL) Chopped fresh cilantro (coriander leaves)
¼ cup (60 mL) Chopped fresh mint

INDIAN SPICED BASMATI RICE:

2 tbsp (30 mL) Butter
1 Black cardamom
½ tsp (2 mL) Black cumin seeds
2 Cloves
1 Cinnamon stick
4 Black peppercorns
1 Tej Patta (Indian Bay leaf)
Pinch saffron
2 cups (500 mL) Basmati rice, rinsed
4 cups (1 L) Chicken Broth
Pinch salt
¼ cup (60 mL) Crispy fried onions
2 tbsp (30 mL) Freshly squeezed lemon juice
Cilantro (coriander leaves)