Delicious & Convenient Recipes
Dinnertime is Mina Time™. Looking for Inspiration?
Find the perfect recipe for any occasion
Chicken, Spinach and Paneer Stuffed Paratha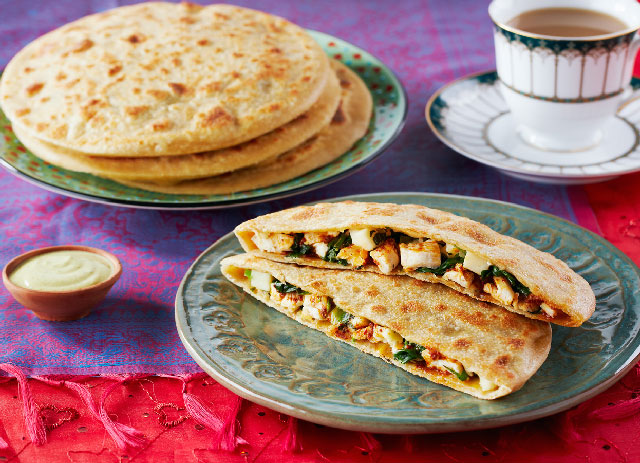 Prep Time:

45 min

Total Time:

1 hr

Servings:

4
Chicken, Spinach and Paneer combined together to make exquisite and aromatic flatbread. A must for the month of Ramadan!
DIRECTIONS
SIFT flour together with the salt in a large mixing bowl. Add oil and rub in with your fingers to form a crumb. Gradually add water, stirring to form dough. Turn out onto a lightly floured surface and knead 5 minutes or until smooth. Place in bowl, cover with plastic wrap and set aside for 30 minutes.

HEAT 2 tsp (10 mL) ghee in a large skillet over medium heat. Add green onion and garlic. Sauté for 2-3 minutes. Add ginger, chilies, garam masala and spinach. Stir to combine. Add chopped chicken, mint and paneer. Cook 1-2 minutes or until heated through. Season with salt to taste.

WORKING on a lightly floured surface, divide dough into 8 pieces and gently form into balls. Using a lightly floured rolling pin, roll each ball into a paratha 7" (17 cm) in diameter. Stack on a baking sheet with parchment or wax paper between each layer to prevent sticking.

PLACE 1/3 cup (80 mL) filling in the middle of four paratha. Spread out filling and place a second paratha on top. Squeeze the edges to seal.
Ingredients
PARATHA FLAT BREAD:
3 cups (750 mL) Chapati flour, plus extra for dusting
½ tsp (2 mL) Salt
1 tbsp (15 mL) Vegetable oil
1 ¼ cups (300 mL) Water
FILLING:
2 tbsp (30 mL) Ghee or vegetable oil, divided
½ cup (125 mL) Chopped green onions
2 Cloves garlic, minced
1 tsp (5 mL) Minced ginger
2 tsp (10 mL) Minced green chili
2 tsp (10 mL) Garam masala
2 cups (500 mL) Packed, chopped spinach
2 Mina™ Boneless Skinless Chicken Breasts, cooked, chopped
¼ cup (60 mL) Chopped fresh mint
¾ cup (175 mL) Diced paneer cheese
Salt
Chopped mint and cilantro to garnish