Delicious & Convenient Recipes
Dinnertime is Mina Time™. Looking for Inspiration?
Find the perfect recipe for any occasion
Chicken Nugget Parmesan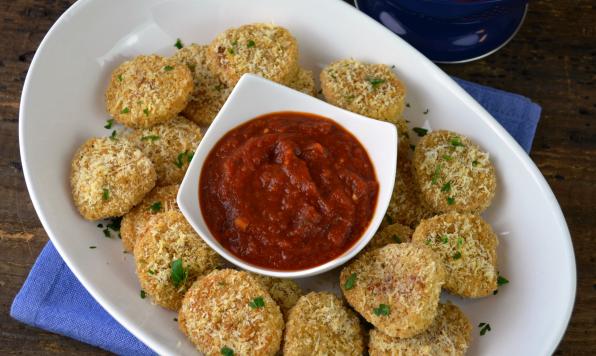 Prep Time:

5

Total Time:

25

Servings:

4
This is so easy to make using ready prepared ingredients. The cheese really elevates the flavour of the chicken nuggets!
Ingredients
1 Package (750 g) Mina Halal Breaded Chicken Nuggets

3/4 cup (175 mL) Finely grated Parmesan cheese

1 (680 mL) Container ready prepared Marinara sauce

1 tbsp (15 mL) Finely chopped parsley
DIRECTIONS
PREHEAT oven to 425°F (220 °C). Place chicken nuggets on a baking sheet lined with parchment paper and bake according to the package directions.

MEANWHILE, heat Marinara sauce in a small saucepan.

REMOVE nuggets from the oven when cooked and toss with Parmesan cheese. Sprinkle with parsley and serve with warm Marinara sauce for dipping.