Delicious & Convenient Recipes
Dinnertime is Mina Time™. Looking for Inspiration?
Find the perfect recipe for any occasion
Chicken Kabsa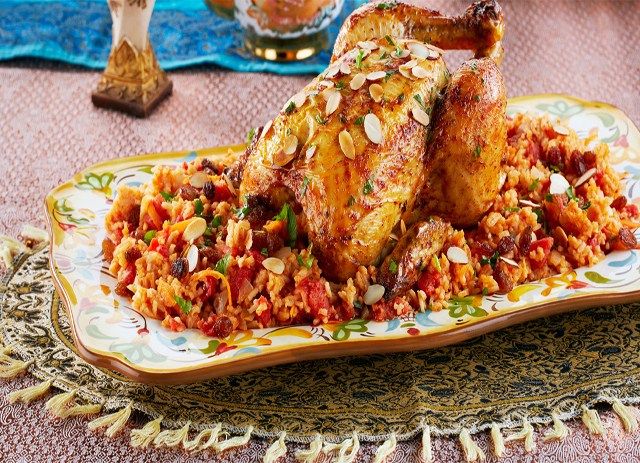 Prep Time:

20 min

Total Time:

1 hr 20 min

Servings:

4
Delight your senses and let your taste buds travel with this Arab inspired recipe.
DIRECTIONS
PREHEAT oven to 350˚F (180˚C).

HEAT olive oil in a Dutch oven or a large pot over medium heat. Add onions, garlic and ginger. Sauté for 4-5 minutes or until soft. Add chicken and brown for 2-3 minutes per side. Stir in spices, tomatoes and chicken broth. Bring to a boil, lower heat to medium-low and cook covered for 30 minutes. Remove chicken to a parchment lined baking tray. Roast, on the top rack in preheated oven for 20-25 minutes or until internal temperature reaches 185˚F (85˚C).

ADD rice and carrots to the pot containing tomato mixture. Stir to combine. Reduce heat to low. Cover pot with a tea towel and a lid. Simmer for 20 minutes or until rice is cooked.

SPOON rice mixture onto a serving platter. Top with chicken and garnish with almonds and raisins.
Ingredients
¼ cup (60 mL) Olive oil
2 cups (500 mL) Chopped onion
2 cloves garlic, minced
1 tsp (5 mL) Freshly grated ginger
2 tbsp (30 mL) Tomato paste
1 Mina™ Whole Chicken, halved Salt and pepper
2 tsp (10 mL) Orange zest
1 tsp (5 mL) Cardamom
1 tsp (5 mL) Ground cinnamon
1/2 tsp (2 mL) Ground cloves
1 tsp (5 mL) Baharat
1 (28 oz/796 mL) Can diced tomatoes, drained
4 cups (1 L) Chicken broth
1 ½ cups (375 mL) Rice
2 cups (500 mL) Shredded carrot
2 tbsp (30 mL) Sliced almonds, toasted
1/3 cup (80 mL) Raisins