Delicious & Convenient Recipes
Dinnertime is Mina Time™. Looking for Inspiration?
Find the perfect recipe for any occasion
Chicken Breast Tagine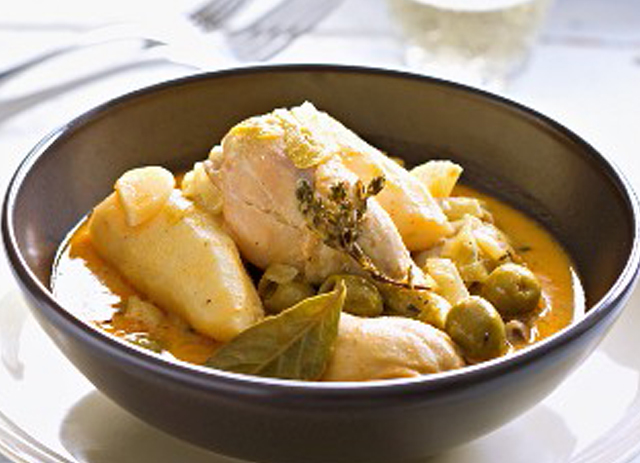 Prep Time:

10 min

Total Time:

30 min

Servings:

4
This lighter version of Moroccan chicken tagine still boasts the intense flavor of an original recipe.
Ingredients
4 Mina™ Boneless Skinless Chicken Breasts
2 tbsp (30 mL) Chopped fresh thyme
.25 cup (60 mL) Chopped fresh cilantro
.25 tsp   (1 mL) Salt
2 tsp (10 mL) Turmeric
.5 tsp (2 mL) Cayenne pepper
2 tsp (10 mL) Ground ginger
Pinch saffron
.33 cup  (80 mL) Olive oil, divided
2 Onions, chopped
3 Cloves garlic, minced
2 Bay leaves
1 Lemon, cut into wedges
1.5 cups (375 mL) Chicken broth
.75 cup  (175 mL) Green olives
1 cup (250 mL) Dried prunes
DIRECTIONS
CUT each chicken breast into three pieces. Set aside.

COMBINE thyme, cilantro, salt, turmeric, cayenne, ginger, saffron and ¼ cup (60 mL) oil in a large bowl. Add chicken and massage to coat. Place in refrigerator and marinade for at least 1 hour.

HEAT remaining 2 tbsp (30 mL) oil in a Dutch oven or a large skillet over medium-high. Add onions and garlic. Sauté for 2-3 minutes or until slightly softened. Add chicken and cook 1-2 minutes on each side. Add bay leaves, lemon wedges, chicken broth, olives and prunes. Reduce heat to low, cover and simmer for 15 minutes or until internal temperature of the chicken reaches 165°F (74°C).