Delicious & Convenient Recipes
Dinnertime is Mina Time™. Looking for Inspiration?
Find the perfect recipe for any occasion
Chicken Bastilla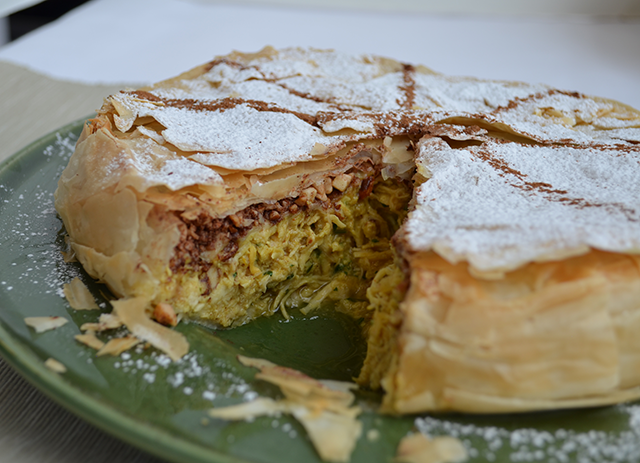 Prep Time:

1 hr

Total Time:

2 hr 15 min

Servings:

8
Morrocan Chicken Bastilla is an elaborate meat pie which combines sweet and salty flavours. Crispy layers of phyllo, surround savoury chicken that has been slow cooked in a seasoned broth and shredded. Crunchy toasted almonds mixed with icing sugar and cinnamon adds to the authenticity and perfection of this dish.
DIRECTIONS
HEAT oil in a large skillet or Dutch oven over medium-high. Season chicken with salt and pepper. Cook 2-3 minutes per side or until golden. Remove and set aside.
Sauté onion, garlic and spices in the same pan over medium heat for about 4-5 minutes or until onions are soft. Add saffron, chicken broth and chicken pieces. Bring to a boil, reduce heat and simmer for 30-40 minutes or until chicken pulls away from the bone easily.

REMOVE chicken and cinnamon from the skillet. Discard cinnamon and allow chicken to cool slightly. Once cool enough to handle, remove meat from the bones and shred, using 2 forks or your fingers. Discard chicken bones.

BRING remaining liquid, in skillet, to a boil. Add lemon juice. Allow liquid to reduce until thickened. Reduce heat to low, add eggs and scramble. Add parsley, cilantro and shredded chicken. Season with salt and pepper to taste. Set aside to cool. (Can be made a day in advance and refrigerated overnight.)

PREHEAT oven to 350˚F (180˚C).

MIX almonds with 1 tbsp (15 mL) icing sugar and 1 tsp (5 mL) cinnamon in a small bowl. Set aside.

BUTTER 1 sheet of phyllo pastry, using melted butter and a pastry brush. Gently place in a 9" (23 cm) springform pan, allowing the edges to hang over the outside of the pan. Repeat with five more sheets of phyllo. Add chicken mixture and fold 4 of the sheets of phyllo over the filling to cover. Sprinkle almond mixture evenly over the top. Fold last two sheets of phyllo in pan to cover. Butter remaining two sheets of phyllo and place on top, tucking in the edges.

PLACE on a baking sheet and bake in preheated oven for 45 minutes or until golden brown. Cool slightly, remove sides from pan and place on a serving dish.

SPRINKLE with remaining icing sugar and decorate with remaining cinnamon. Slice into pie shaped pieces and serve.
Ingredients
2 tbsp (30 mL) Vegetable oil
1 Mina™ Whole Chicken, cut into 8 pieces
Salt and pepper
2 Onions, diced
2 Cloves garlic, minced
1 Cinnamon stick
1 tsp (5 mL) Ground ginger
1 tsp (5 mL) Cumin
½ tsp (2 mL) Cayenne
½ tsp (2 mL) Turmeric
Pinch saffron
2 cups (500 mL) Chicken broth
1 tbsp (15 mL) Lemon juice
3 Eggs, beaten
1 tbsp (15 mL) Chopped fresh parsley
1 tbsp (15 mL) Chopped fresh cilantro
1 cup (250 mL) Whole almonds, toasted, finely chopped
1/3 cup (80 mL) Icing sugar, divided
2 tsp (10 mL) Cinnamon, divided
8 Sheets frozen phyllo pastry, defrosted
½ cup (125 mL) Melted butter