Delicious & Convenient Recipes
Dinnertime is Mina Time™. Looking for Inspiration?
Find the perfect recipe for any occasion
Buffalo Crunch Pizza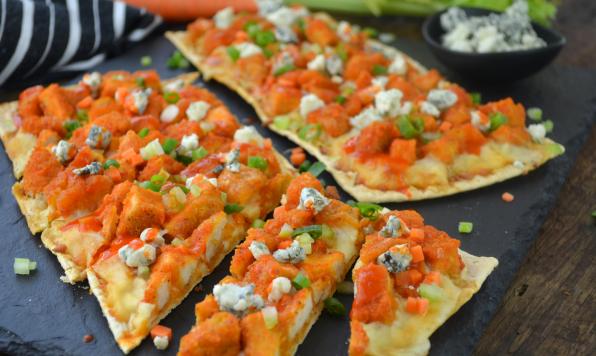 Prep Time:

10

Total Time:

20

Servings:

4
The chicken strips add a nice crunchy texture to Buffalo flavoured pizza. Easy to prep and quick to make. This is an easy party dish to make and the combination of ranch dressing and Hot Sauce is a heavenly one. Along with blue AND mozzarella cheese you can't go wrong.
Ingredients
15 Mina Breaded Chicken Strips

1/2 cup 125 mL) Hot Sauce

1/3 cup (80 mL) Prepared ranch dressing

2 Large tortillas or 12"x5" (30x 10 cm) flatbreads

1 cup (250 mL) Grated Mozzarella cheese

1/2 cup (125 mL) Crumbled Blue cheese

2 tbsp (30 mL) Finely diced carrot

2 tbsp (30 mL) Finely diced celery
DIRECTIONS
PREHEAT oven to 425°F (220°C). Line a baking sheet with parchment paper. Heat chicken strips according to package directions. When strips are heated, roughly chop and toss with Hot Sauce.

DIVIDE the ranch dressing between the tortillas or flatbreads. Spread, leaving a ½" (1 cm) border. Sprinkle with Mozzarella cheese and chicken strips pieces. Return to the oven and bake for 8-10 minutes or until the base is crispy and the cheese is bubbly.

GARNISH with Blue cheese, carrots and celery. Drizzle with extra hot sauce if desired.