Delicious & Convenient Recipes
Dinnertime is Mina Time™. Looking for Inspiration?
Find the perfect recipe for any occasion
BBQ Jerk Chicken Pizza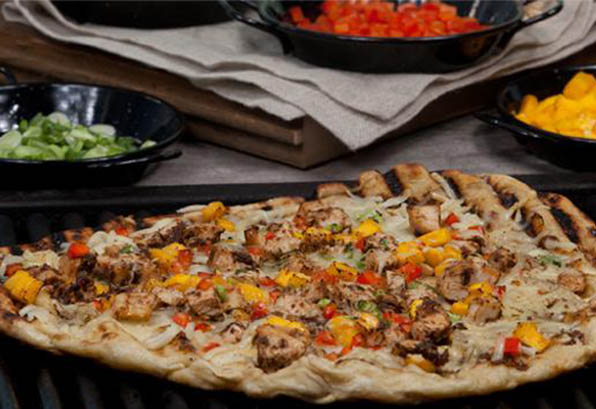 Prep Time:

15 min

Total Time:

25 min

Servings:

8-10
Spicy and tender morsels of jerk chicken on a light crisp pizza, dripping with golden melted cheese and a hint of fresh mango, pepper and green onion.
DIRECTIONS
PREHEAT BBQ to medium-high.

ROLL out each pizza dough on a lightly floured work surface to 12" (30 cm) in diameter and about ½" (1 cm) thick.

BRUSH each side with olive oil and place on the grill for 2-4 minutes per side. Remove from the grill and transfer to a baking sheet or pizza pan.

SPREAD half the jerk sauce over the two crusts. Toss the remaining jerk sauce with the chicken in a small bowl. Sprinkle the pizzas with Mozzarella cheese followed by chicken, mango, diced pepper, and green onion. Sprinkle with Parmesan cheese.

TURN one side of the grill off. Place pizza on the grill over indirect heat. Close the lid and cook for 15-20 minutes or until the cheese is bubbly and golden brown and the crust is crispy.

Tip:

Can be made in the oven. Bake at 375°F (190°C). Bake on a parchment paper lined baking sheet for 10-12 minutes.
Ingredients
2 Ready prepared pizza dough

1/4 cup (60 mL) Olive oil

3/4 cup (175 mL) Ready prepared jerk sauce

2 Mina Halal® Boneless Skinless Chicken Breasts, chopped and cooked

2 cups (500 mL) Grated Mozzarella cheese

1 Diced mango

1 Diced red pepper

4 Thinly sliced green onions

1 cup (250 mL) Grated Parmesan cheese