Delicious & Convenient Recipes
Dinnertime is Mina Time™. Looking for Inspiration?
Find the perfect recipe for any occasion
Arabian Chicken With Aromatic Rice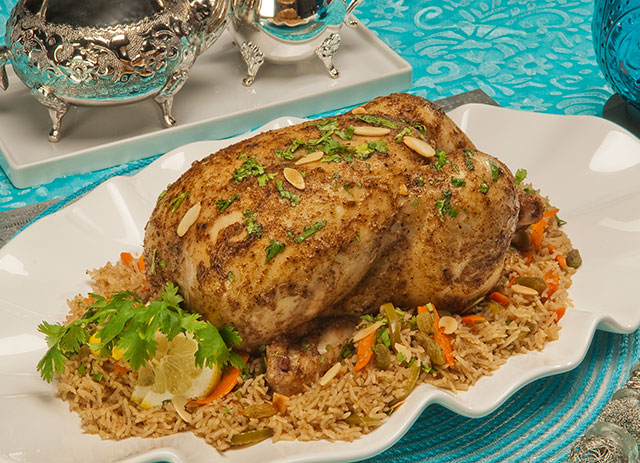 Prep Time:

10 min (not including marinating time)

Total Time:

1 hr 40 min (not including marinating time)

Servings:

4-6
Delight your senses and let your taste buds travel with this Arab inspired recipe.
DIRECTIONS
ARABIAN CHICKEN:

COMBINE first eight ingredients in a small bowl. Rub mixture all over chicken, including under the skin. Marinate for at least 1 hour or up to overnight.

PREHEAT oven to 375˚F (190˚C).

PLACE chicken on a rack in a roasting pan. Add water to the bottom of the pan. Cover with aluminum foil and bake in preheated oven for 1 hour & 15 minutes. Increase oven temperature to 400˚F (200˚C). Remove foil and continue to roast for 30 minutes or until golden brown and the internal temperature has reached 185˚F (85˚C).

AROMATIC RICE:

HEAT butter and oil in a medium saucepan over medium. Add cardamom, cinnamon, ginger-garlic paste, white pepper, garam masala, salt and carrots. Cook 1-2 minutes or until fragrant. Add rice. Stir to coat. Add chicken broth. Bring to a boil, reduce heat to low, cover and simmer for 13 minutes or until all liquid is absorbed. Remove from the heat and allow to sit, covered, for 5 minutes. Fluff and serve with Arabian chicken garnished with toasted almonds and cilantro.
Ingredients
ARABIAN CHICKEN:

2 tbsp (30 mL) Lemon juice
2 tbsp (30 mL) Olive oil
2 tbsp (30 mL) Vinegar
1 tbsp (15 mL) Garam masala
1 tbsp (15 mL) Ginger garlic paste
1 tsp (5 mL) White pepper
1 tsp (5 mL) Black pepper
½ tsp (2 mL) Salt
1 Mina™ Whole Chicken
1 cup (250 mL) Water

AROMATIC RICE:

1 tbsp (15 mL) Butter
1 tbsp (15 mL) Olive oil
3 Green cardamom pods
1 Stick cinnamon
1 tbsp (15 mL) Ginger garlic paste
½ tsp (2 mL) White pepper
2 tsp (10 mL) Garam masala
½ tsp (2 mL) Salt
1 Carrot, sliced
1 cup (250 mL) Basmati rice, rinsed
2 cups (500 mL) Low sodium chicken broth
Toasted sliced almonds
Cilantro (coriander leaves)