Delicious & Convenient Recipes
Dinnertime is Mina Time™. Looking for Inspiration?
Find the perfect recipe for any occasion
Whole Brown Butter Herb Basted Chicken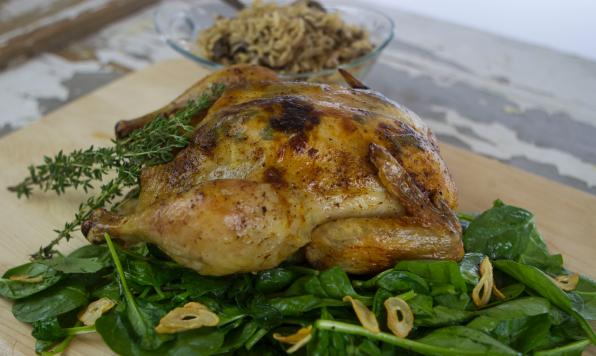 Prep Time:

25

Total Time:

1

Servings:

4
This chicken gets the wow factor with beautiful herbs and a nutty brown butter finish. Say good bye to take home rotisserie and hello to this impressive easy whole chicken recipe.
Ingredients
1 cup butter

1 2kg Mina Halal Whole Chicken

4 sprigs fresh thyme

2 sprigs fresh rosemary

3 shallots, peeled and halved

6 cloves garlic, peeled

Salt and pepper
DIRECTIONS
Heat oven to 400 degrees. Melt butter in a small sauce pan over medium high heat. As butter melts it will start to foam, keep a close eye on it as the foam dissipates the butter will start to turn a golden brown and will have a nutty fragrance, about 3 to 4 minutes. Remove from heat immediately and pour into a small bowl. Keep warm.

Using your finger, carefully pull skin up around the breast bone on both sides being careful not to tear skin. Gently ease herbs underneath the loosened skin. Fill the cavity of the chicken with the shallots and garlic. Using a pastry brush, brush brown butter all over the chicken.

Pour remaining butter over top. Place chicken onto a parchment lined baking sheet and roast for 15 minutes.

Reduce heat to 375 degrees. Baste chicken with residual drippings every 15 to 20 minutes. Cover with foil if the top is browning too quickly.

Roast for 40 to 45 minutes or an internal temperature of 165 is reached.

Remove from oven onto cutting board and loosely tent with foil. Allow to rest for 5 to 10 minutes.

Carve and pour an remaining brown butter drippings over top.